CW500: Internet of things to pose 'huge security and privacy risks'
The internet of things will pose enormous security and privacy challenges, a recent CW500 Club meeting heard
The emergence of the internet of things will expose businesses and individuals to security risks of unimaginable scale, it was claimed last week.
By 2020, trillions of sensors will be feeding data across the internet, recording everything from people's movements to what they have just bought.
And there is growing interest from business and government planners in harnessing mobile phone location data from the public.
Such data may prove invaluable for city planning or alerting consumers to special offers on their favourite products in a nearby shop.
Content Continues Below

Download this free guide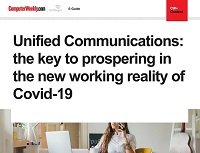 Unified Communications: the key to prospering in the new working reality of Covid-19
The coronavirus is changing everything about how people work, and will do so permanently. It added that even though the working world was experiencing unprecedented uncertainty, there were two things that should be borne in mind: the virus will pass, and at the other side of the pandemic, the world of work will look very different.
Read more on Wireless networking