Blending work and personal life increasing security risks, warns global report
Cisco finds next generations of mobile workers increase the security challenges facing CIOs because they mix work and private lives
The next generations of workers are increasing the security challenges facing CIOs because they are mobile and mix work and private lives throughout the day, according to Cisco research.
Two reports from Cisco reveal the challenges facing businesses and individuals attempting to remain secure from cyber threats.
"Findings from two global studies provide a vivid picture of the rising security challenges that businesses, IT departments and individuals face, particularly as employees become more mobile and blend work and personal lives throughout their waking hours," said Cisco.
The findings from Cisco's 2013 Annual Security Report (ASR) reveal that rather than shady online activity, such as visiting pornography, pharmaceutical or gambling sites, the highest concentration of online security threats are on mass audience sites such as major search engines, retail sites and social media outlets.
It revealed that online shopping sites are 21 times as likely, and search engines are 27 times as likely, to deliver malicious content than a counterfeit software site. It also revealed that online advertisements are 182 as times likely to deliver malicious content than pornography.
Meanwhile the Cisco Connected World Technology Report (CCWTR), which looked into the attitudes of Generation Y, found that security risks are arising from the fact that workers mix their work devices and online behaviour with their personal lives constantly.
According to the study, 91% of Generation Ys believe the age of privacy is over. One third say that they are not worried about all the data that is stored and captured about them.
"They are willing to sacrifice personal information for socialisation online. In fact, more Generation Y workers globally said they feel more comfortable sharing personal information with retail sites than with their own employers' IT departments – departments that are paid to protect employee identities and devices," said Cisco.
Web malware encounters by country
| | |
| --- | --- |
| US | 33.14% |
| Russian Federation | 9.79% |
| Denmark | 9.55% |
| Sweden | 9.27% |
| Germany | 6.11% |
| China | 5.65% |
| UK | 4.07% |
| Turkey | 2.63% |
| Netherlands | 2.27% |
| Ireland | 1.95% |
Source: Cisco
Content Continues Below

Download this free guide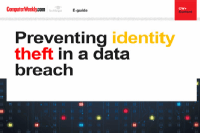 Preventing identity theft in a data breach
In this e-guide, we will explore the links between ransomware attacks, data breaches and identity theft. First, Nicholas Fearn investigates the phenomenon of the double extortion attack, and shares some insider advice on how to stop them, while we'll explore the top five ways data backups can protect against ransomware in the first place.