Expect two or more supplier audits this year
A recent survey by CA has reported that 40% of IT decision makers expect to be audited by their software provider up to twice a year
A recent survey by CA has reported that 40% of IT decision makers expect to be audited by their software provider up to twice a year.
Along with economic pressure, the survey of 92 senior decision makers reported that technological changes such as virtualisation have also driven the increase in audits.
The complexity of those technologies makes it harder for companies to be sure they are using them properly.
According to the CA poll, if the company was to face a financial penalty for IT asset non-compliance, 78% expect that penalty to be high. Fines vary dramatically, depending on the extent on the non-compliance, the value of the technology and the extent of the inadvertent or the deliberate technology misuse.
Ollie Ross, head of research at IT director group, The Corporate IT Forum said: "Software licensing has always been complicated, but in recent years, recent developments have had an enormous impact on the complexity of software licensing."
She warned that software auditing was seen as an overhead: "Senior management do not appreciate that business strategy such as bring your own device (BYOD) or virtualisation can affect licensing."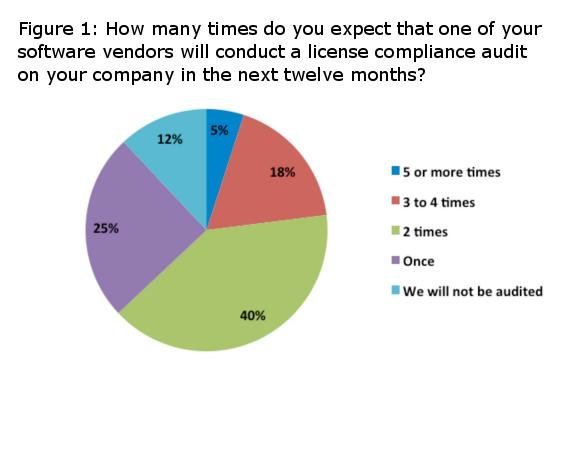 More on licensing and IT asset management
Video interview: Stephen Mann, Forrester, on IT asset management
Ross warned IT departments that software auditing is very expensive. "Having a robust SAM process is a necessity and can save you money," she added.
Matt Fisher, director at License Dashboard, a company that specialises in software asset management, said: "While many suppliers, including Microsoft, have added user-centric elements to their licensing terms, since the license remains, at its core, a device one, licensing under virtualisation remains a grey area."
As Computer Weekly has previously reported, larger organisations may find they are targeted directly by the large software providers, while the BSA will go after smaller businesses.
Data from surveys carried out at Gartner IT Financial, Procurement and Asset Management Summits between 2005 and 2011 shows that the percentage of respondents subjected to supplier software audits increased from 30% to 65% during this period. Such audits are costly, time-consuming and can show software licensing discrepancies.