Skandia Team GBR analysed its way to victory at the Olympics
Business analytics software helped British sailing team, Skandia Team GBR, sweep up five medals against a target of four at the London 2012 Olympics.
Business analytics software helped British sailing team, Skandia Team GBR, sweep up five medals at the London 2012 Olympics.
In the run up to London 2012, the team used an analytical methodology to identify and measure critical factors affecting the UK sailing team's performance.
By gathering specific information about competitors, the team was able to establish points of strengths and weaknesses, from data acquired from race results from the past three to four years.
Working with Accenture, data on boat class, sea conditions, weather conditions, race officials, winners, mark-by-mark results, as well as videos and GPS tags were all recorded on tablet-based systems and then broken down to provide the team with critical information.
"I would know things like if I was racing against somebody and I got to the first mark first, nine out of 10 times, I would beat that person in the race. So against that person, I know I have to work exceptionally hard on the first leg, because I know if I do, nine out of 10 times I'll win," explains Stephen Park, Olympic manager of the Skandia Team GBR.
"The fact that you know that you've got that opportunity affects your mental state, affects how you set up the race and what your performance might be."
"Knowledge is power and can particularly affect confidence in the people delivering."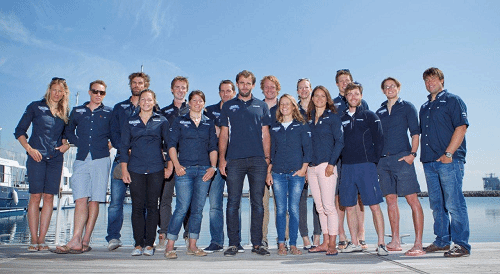 The team, managed by the Royal Yachting Association (RYA), has been working Accenture for the past seven years to establish business analytics programmes to improve performance.
Using data capture software, Skandia Team GBR constantly analyse information about not only performances but the entire organisation. The team of 80 sailors and 50 support staff feed into a Performance Management System to record data such as weight of sailors and hours in the gym, right through to finance and HR.
The catalyst for monitoring all of this information was UK Sport's auditing process which ensures lottery funds are distributed fairly. All sports which receive funding are given a set of Key Performance Indicators (KPIs), which are monitored on a quarterly basis.
"When we started the process it would easily take us three days to complete the [audit]. But using the Performance Management tool we can do it from the press of a button because all that information is continuously being gathered," explains Park.
The process conducted through the Performance Management System saves the organisation two and half days every quarter, while also providing them with the confidence that they are submitting objective data back into UK Sports for the auditing process
"When we speak to our colleagues in other sports, it's still a major challenge for them, but for us it's not that a big deal now," adds Park.
An additional programme is Sailor Performance Monitoring, which provides objective feedback from every single sailor in the team.
The data from sailors is fed back via a coloured matrix system, with the different aspects of their performance set against targets. If the scores are above or below target, the software's traffic light system of red, amber, green and gold changes the colours in the matrix which makes it clear to the sailors what the results are.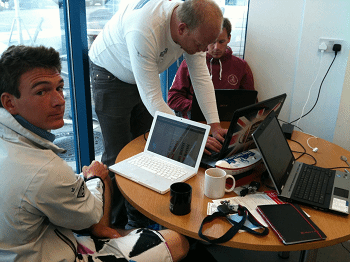 "I think one of the benefits is that it is a good tool to communicate to the sailors what is expected of them, help manage their expectations and drive their ambitions," says Stuart Cotton, senior executive at Accenture.
The programmes are built online, on Microsoft Sharepoint with the addition of Microsoft Infopath to manage the huge amount of data from the organisation. Every user needs to access it remotely, and it is possible to use on a mobile browser on any device or computer.
Previous to the organisation's partnership with Accenture, it had been profiling the performance of sailors as a paper exercise. However, the general performance management of the business was non-existent.
"It was basically a few of us sitting around with a number of sandwiches and a few flasks of coffee to discuss whether we thought things were going well or not," says Park. "And there are plenty of organisations still like that today."
"Previously, we were like the vast majority of governing bodies in sport, very much focussed on sporting performance. And our involvement with Accenture has bought business process into some of the work we were doing. While we were well acquainted with mission statements and core values, we're able to help bring into the organisation a process and a structure that would allow us to measure in an objective fashion the key principles that bring success in our business."
"We've been fairly successful winning five or more medals at each of the last four Olympic Games. We have very consistent performance now. So where I really see it making a difference is making sure we maintain that consistency and making sure we don't take our eye off the ball and find ourselves running down various other rabbit holes that we think are interesting," says Park.
Read more on Managing IT and business issues