Permanent IT job placements continue to rise
Permanent IT staff placements have increased for a third consecutive month, but agency temp placements have decreased due to agency worker regulations
Permanent IT staff placements have increased for the third consecutive month, and IT and computing permanent job vacancies are at an eight-month high, according to a UK recruitment report.
However, the Recruitment and Employment Confederation (REC) and KPMG Report on Jobs found that agency temp/contract placements decreased. Despite this drop being moderate, the report indicated it was the fastest plummet in short-term appointments for the past two-and-a-half years.
The report suggests that this conversion from hiring temp agency workers to permanent staff has come about as a result of recently introduced Agency Worker Regulations.
The regulations, which came into play in October 2011, mean agency workers are now entitled to the same basic employment and working conditions as staff recruited directly.
The new rules mean that from day one, agency workers are entitled to use the workplace's facilities to look for information on other job vacancies, and after 12 weeks of employment the worker has equal right in pay, holidays, night work, rest periods and duration of working time as those recruited directly. The new rules do not mean, however, that agency staff automatically become a permanent employee of the hirer after 12 weeks.
The Agency Worker Regulations have also been highlighted as the cause for a rise in temporary/contract staff salaries. Starting salaries for permanent hires were broadly unchanged for the month of March.
IT jobs rise encouraging
Ronnie McCombe, partner at KPMG, said it is encouraging to see permanent placements in positive territory for the third month in a row in 2012.
While it is heartening to see that overall vacancies are rising, salaries are stagnating

Ronnie McCombe, KPMG
"This provides further hope that the employment market will win through to a stronger recovery as the year progresses," he said. "Sectors such as IT and computing and engineering/construction continue to perform well."
But McCombe said it was still too early to call it a jobs recovery, as there are still "tensions beneath the surface".
"Some of the rise in permanent placements appears to stem from employers simply switching temporary workers to permanent status due to the higher entitlements that the Agency Worker Regulations have given them. And while it is heartening to see that overall vacancies are rising, salaries are stagnating, which means the economy is likely to carry on feeling the pinch from cost-conscious consumers reluctant to part with their money. There are grounds for cautious optimism, but recovery remains fragile and could all too easily be blown off course," he explained.
Skills shortage must be addressed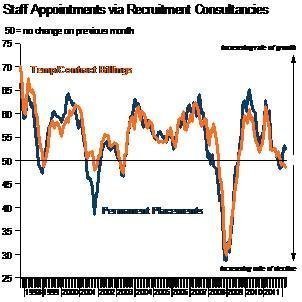 Tom Hadley, director of policy and professional services for the REC, said this is good news for job seekers and a positive indication of increasing employer confidence.
"As demand increases, the need to address the disconnect between the skills employers are looking for and what jobseekers have to offer will become more pressing. Expertise in IT and engineering, as well as workers in catering and driving, continue to be sought after," he said.
"The government needs to do more to address the supply side of the equation, ensuring school leavers, graduates and other jobseekers get sound advice on the skills and qualifications they need to secure the jobs they want," said Hadley.
He said tax changes announced in the Budget, along with the Youth Contract and reductions in red tape for businesses, should further boost employer confidence.
---
Image: Thinkstock