Heads of finance hate big-bang IT projects
Big bang, long-term, strategic, transformational IT projects no longer make sense, says a panel of CFOs.
Big-bang, long-term, strategic, transformational IT projects no longer make sense, according to IT and finance chiefs.
In a recent roundtable discussion of CIOs and CFOs hosted by IT services company Getronics, experts agreed that a smaller, cheaper project with well-defined scope can generate value quickly.
Karl Howarth, chief financial officer at ferry operator P&O, said, "The days of long-term IT projects have ended. They were not particularly successful and by the time they were implemented it was time to change."
"The chance of failure in a big project is high so you have to split it up," said Lukas Oberhuber, chief technology officer at business insurance company Simply Business.
Jamie Oliver's head of IT Patricio Columbo agreed: "We do not have any legacy. Instead IT focuses on short, measurable projects with quick delivery times. Our CRM project is divided into phases. We are not prepared for a big-bang approach."
It is a similar story at Checkatrade, a website for vetting and recommending tradespeople like plumbers and builders. The site started in 1998 after severe floods in Selsey, to protect the public from rogue traders and now has 7,000 vetted traders.
Claire Hossell, chief financial officer at Checkatrade, said, "We run short-term projects with continuous improvements. IT is at the heart of the business. The system was developed externally, but is now fully in-house. We used to outsource but came to the point when the system was so important to the business that we brought it back in-house."
CIOs must adapt
A study conducted by market researcher LoudHouse suggested that CFOs believe the days of the CIO are numbered. The role of the CIO will cease to exist in five years' time, according to the study conducted for Getronics.
The survey of 203 key financial decision makers in companies of 1,000 employees or more, found that almost one in five CFOs (17%) believe that the role of the CIO as it currently stands is in jeopardy. A further 43% of financial decision-makers said that the role will merge more with finance and a third (31%) believe that CIOs will come from a non-technical background. Two out of five (38%) CFOs and financial directors believe that CIOs do not have a good level of financial understanding.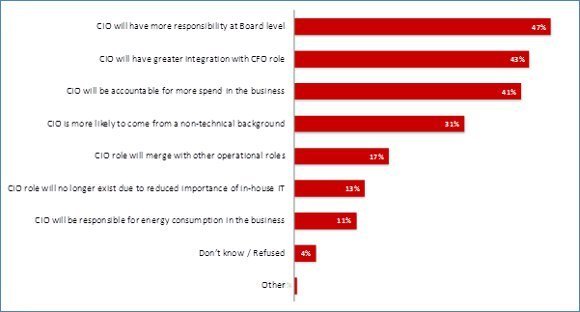 Change to IT teams
The requirement for IT teams to evolve is keenly felt by CFOs. In the study, 64% said the maintenance of IT infrastructure will be of great concern. Large IT teams and legacy systems drives high expenditure in businesses and many seek to address this.
Interestingly 48% see spend on outsourced consultancies as being a worry too. This represents another shift in thinking about infrastructure - the consultancy needs to come from the CIO role, being closer to financial concerns, while the functionality of the IT service can reside externally.
Expenditure on software licences and hardware are of less concern (47% and 44% respectively), representing a conscious decision to move away from these infrastructure needs. Meanwhile only 20% of respondents saw hosted services as a concern, which could represent a move towards this regime. The same percentage also acknowledged that staff resourcing was a concern, which suggests that finance teams have very clear thinking on the issues of in-house IT team resource.
Surprisingly, 40% also believed that their CIOs need a greater understanding of the IT function itself. Compounding this lack of understanding of both roles, more than half (56%) of the CFOs surveyed believe that a lack of integration between finance and IT limits the impact on cost savings achievable from IT projects within their business.
"The role of the CIO has often been a point of contention within many organisations since its very inception," says Mark Cook, CEO, Getronics UK. "Only by freeing up CIOs from the day-to-day burden of managing assets will organisations be able to truly realise the value that a CIO can bring to their business."
---
"Helix Nebula" photo courtesy NASA/JPL-Caltech