Apple iPhone prises enterprise grip from Blackberry
The dominance of Blackberry smartphone usage in enterprises has been dissolved by Apple iPhone devices in the workplace.
The dominance of Research in Motion (RIM)'s Blackberry smartphone usage within enterprises is being eroded by increased use of Apple iPhone devices in the workplace.
A survey of 2,300 employees by iPass shows the iPhone is now the top smartphone being used in the enterprise with 45% marketshare compared to Blackberry's 35%. Apple iPhones were used by 31% of employees in 2010.
Graph by iPass shows current smartphone usage within organisations: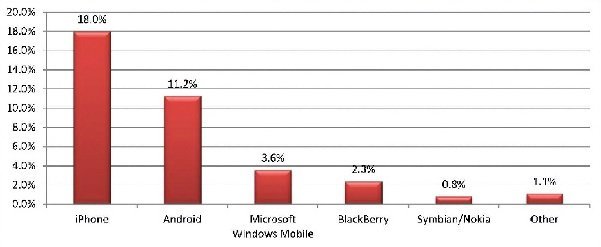 Evan Kaplan, president and CEO of iPass said in the Mobile Workforce report that, while Blackberry marketshare only declined by 3% between 2010 and 2011, other smartphone platforms, such as Apple iPhone and Google Android devices, have grown more rapidly.
"In 2012, it looks like iPhone will continue to lead in the enterprise, followed by Android smartphones with Microsoft Windows Phone smartphones a distant third," he said.
Graph by iPass show organisations' smartphone usage expectations for 2012:

Almost half of employees (42%) are using personal smartphones for work use. iPass said this shows enterprises are "loosening the reigns of liability".
"Mobile device liability will continue to shift to the individual. This will help grow the mobile workforce radically, and will help hasten the penetration of smartphones and tablets in the enterprise," said Kaplan.
However, he said businesses will have to accept paying towards employee-owned devices data costs if employees are required to stream or download multi-media content.
The research firm expects tablet devices to become more widely used in the workplace. Tablet device ownership among mobile employees has increased from 33% in the second quarter of 2011 to 44%.
Ovum believes smartphones running on Google's Android OS will be a bigger threat to Blackberry dominance than iPhone devices.