Credit crunch effects to hit IT sector in 2009
Technology companies face being hit by the "credit crunch" and a downturn in business in 2009, according to a prediction by leading analyst Richard Holway.
Technology companies face being hit by the "credit crunch" and a downturn in business in 2009, according to a prediction by leading analyst Richard Holway.

Download this free guide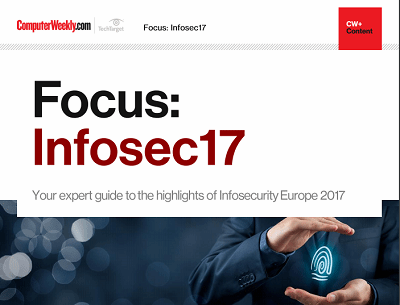 From forensic cyber to encryption: InfoSec17
Security technologist Bruce Schneier's insights and warnings around the regulation of IoT security and forensic cyber psychologist Mary Aiken's comments around the tensions between encryption and state security were the top highlights of the keynote presentations at Infosecurity Europe 2017 in London.
By submitting your personal information, you agree that TechTarget and its partners may contact you regarding relevant content, products and special offers.
You also agree that your personal information may be transferred and processed in the United States, and that you have read and agree to the Terms of Use and the Privacy Policy.
The technology industry analyst, a former director of Ovum, the IT research analysis and consulting company, forecast that the sector's resilience so far to the effects of the global squeeze on finance will not last.
In an interview with Computer Weekly, he predicted that revenue across the IT sector will decline in 2009, a recession for the industry of up to 2%.
Technology companies dependent on discretionary spending, especially on consumers buying new products, will be "badly hit", he said. "Their outlook is looking much less healthy than they were a year ago, even six months ago."
"I would suggest that the real problem with technology is not in the first six months of this year, maybe it is not going to come in even the second half of this year, but I really do believe that 2009 could be the year when all of this finally catches up with the technology sector."
He said that the prospects for different types of companies within the sector will vary. "There are going to be some areas which are going to grow dramatically, some areas, unfortunately, that I believe are going to see fairly major declines. But I think that the average, for the first time, is going to see a very minor, but still, a negative for 2009."
He said that some outsourcing IT contracts will be hit, echoing a similar warning from the National Outsourcing Association (NOA).
That warning came after Barclays said last week that it had decided not to renew an eight-year contract with Siemens providing back-office processes that is due to expire in September. Barclays will integrate the work internally.
Nigel Roxburgh, NOA research director, said, "In financial services, a substantial amount of business is outsourced and, by virtue of its size, it will naturally be a target for review. What one would presume will happen is that people will re-open negotiations with their supplier looking for short-term cost savings."
However, Holway said that IT companies that can deliver savings for client businesses by supplying outsourcing contracts will prosper. "Any business-process outsourcer that can say to a company, 'We can save you money, and not only that, but we can save you money this financial year,' those companies are doing very well."
He added, "I think that [the IT sector] is probably going to do better than other areas, but it is certainly not recession-proof."
Listen to CW's interview with Richard Holway.
For all the latest from ComputerWeekly on the credit crunch go to
Credit crunch: the IT expert view>>
Read more on IT risk management