Government press officers 'aggressive and unhelpful' over IT failures
Computer Weekly called for more openness from government over expensive and risky IT projects, at a House...
Computer Weekly called for more openness from government over expensive and risky IT projects, at a House of Lords Communications Committee investigating government spin on Wednesday.

Download this free guide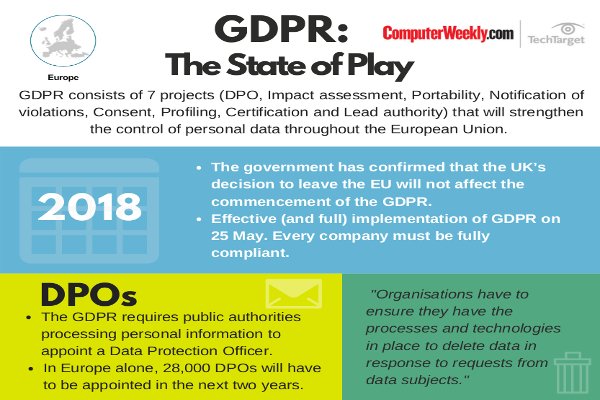 Infographic: GDPR - The State of Play
Get the latest information on how GDPR is going to affect your business and how to avoid any unwanted fines with this simple infographic.
By submitting your personal information, you agree that TechTarget and its partners may contact you regarding relevant content, products and special offers.
You also agree that your personal information may be transferred and processed in the United States, and that you have read and agree to the Terms of Use and the Privacy Policy.
Executive editor Tony Collins gave evidence and told the committee that press officers are increasingly "aggressive and unhelpful", because of a culture within departments resulting from the views of senior civil servants on transparency and the media.
He said, "It's the culture of the organisation that's really reflected in the way the press office behaves. For example, we have a good relationship with the passport office because the top man there wants open communication."
The Department of Health, which runs the NHS National Programme for IT, came in for criticism from other journalists. Nigel Hawkes, health editor at The Times, said, "Relations with the press office are not particularly good. I would not ring them to find out what is going on."
The control of information by government departments is now greater than ever before, Collins said. He added that he had often been surprised at the influence press officers can hold over senior departmental officials.
He said departments need to be able to accept when IT projects go wrong, instead of insisting there is steady progress right up until the moment they are forced to abandon a project. This is evident even in the minutes of board level meetings.
He said, "Until you have change in the culture from the top I don't think we will see any improvement."
The committee is investigating whether the government's reputation for secrecy and partial disclosure has improved since the Phillis Report, which made several recommendations. Several journalists gave evidence, including BBC political editor Nick Robinson and Adam Boulton, political editor at Sky News.
Read more on IT legislation and regulation