Early adopters will make the most of IIS 7.0
What is it? Following the launch of Windows Server 2008, adventurous Internet Information Services (IIS) professionals are turning their attention to IIS 7.0, which ships with the new server and with Vista.
What is it?
Following the launch of Windows Server 2008, adventurous Internet Information Services (IIS) professionals are turning their attention to IIS 7.0, which ships with the new server and with Vista.

Download this free guide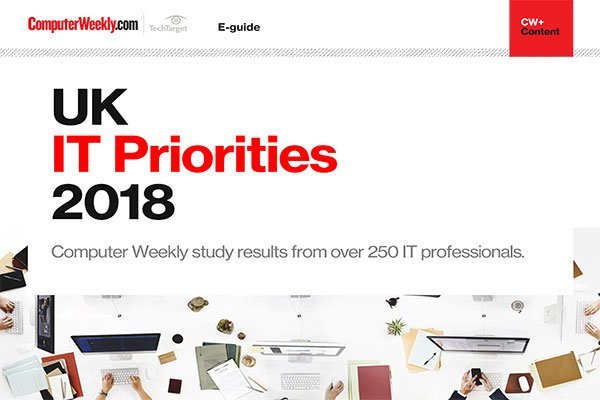 UK IT Priorities 2018 survey results
Download this e-guide to discover the results of our 2018 UK IT Priorities survey, where IT leaders shared with us what they are going to be investing in over the coming 12 months.
By submitting your personal information, you agree that TechTarget and its partners may contact you regarding relevant content, products and special offers.
You also agree that your personal information may be transferred and processed in the United States, and that you have read and agree to the Terms of Use and the Privacy Policy.
There's no real rush, since even the loudest of Microsoft's cheerleaders don't expect it to overtake its predecessor, IIS 6.0, until 2011, and surveys still uncover plenty of sites that haven't yet moved up from IIS 5.0.
For would-be Microsoft professionals looking for a solid web server skill with which to extend their portfolio, IIS 6.0 is the place to start. But the scale of the changes involved in moving to IIS 7.0 is so large that people who have already got the new skills under their belts are likely to find themselves at a premium when the Windows Server 2008 rollout gets under way.
Those without access to a training budget can get started by using IIS 7.0 with Vista. Mike Volodarsky, the technical program manager responsible for the core server infrastructure for ASP.NET and IIS at Microsoft's web platform and tools team, promises that the core ISS development and management features shipped with Vista have remained the same in the server version. A service pack will bring the Vista version in line with the improvements shipped with Windows 2008, meaning that applications for the server can be developed and tested on a desktop PC running Vista.
Where did it originate?
IIS was first released with Windows NT 3.5.1 in 1995. IIS 4.0 became notorious for vulnerabilities. It wasn't until IIS 6.0 that Microsoft really got a grip, and IIS at last began to make headway against Apache, though its market share still doesn't reflect the dominance of Windows among operating systems.
What is it for?
With IIS 6.0, Microsoft reduced the "attack surface" of IIS, and introduced a fault-tolerant architecture which enabled vulnerabilities to be isolated, and affected websites and applications to be taken out of production. IIS 7.0 goes much further, introducing a fully modular architecture with a lightweight server core and more than 40 feature modules that can be plugged into it. Users install only the functionality they need, and can uninstall or disable the modules for applications that don't need them.
The extensibility APIs introduced with IIS 7.0 are public, so users can tailor the ISS modules or add their own. The new Administration tool is also extensible.
What makes it special?
Deployment, administration, and troubleshooting have been made easier than in IIS 6.0.
How difficult is it to master?
According to the official Microsoft IIS site, "the upgrade to IIS 7.0 is a bigger step up than users of any previous versions of IIS have ever experienced before. The IIS 7.0 feature set is larger than any past version and the implications of those new features are even greater for both developers and administrators."
What systems does it run on?
Windows Vista and Windows Server 2008.
What is coming up?
Microsoft is steadily adding to the functionality of IIS 7.0, and putting out beta versions and technical previews of new modules and extensions on the iis.net site.
Training
There are tutorials on planning, installing, deploying, managing and developing with IIS 7.0 at http://learn.iis.net/, together with blogs from Microsoft insiders on more esoteric topics like using Visual Studio 2005 with IIS 7.0.
Rates of pay
Junior systems administrators with IIS around £25,000 £35,000 and upwards for the more experienced.
Read more on Operating systems software