CFI upholds Microsoft anti-competitive ruling
The European Court of First Instance (CFI) has upheld the European Commission's 2004 decision and fine of £497m against Microsoft for anti-competitive practices.
The European Court of First Instance (CFI) has upheld the European Commission's 2004 decision and fine of £497m against Microsoft for anti-competitive practices.

Download this free guide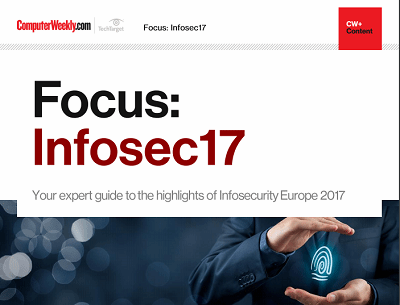 From forensic cyber to encryption: InfoSec17
Security technologist Bruce Schneier's insights and warnings around the regulation of IoT security and forensic cyber psychologist Mary Aiken's comments around the tensions between encryption and state security were the top highlights of the keynote presentations at Infosecurity Europe 2017 in London.
By submitting your personal information, you agree that TechTarget and its partners may contact you regarding relevant content, products and special offers.
You also agree that your personal information may be transferred and processed in the United States, and that you have read and agree to the Terms of Use and the Privacy Policy.
The CFI agreed with the Commission's reasoning that Microsoft had abused its dominant position in two ways, namely refusing to supply its competitors with so-called "interoperability information", and bundling the Windows-client PC operating system and Windows Media Player.
The court rejected Microsoft's claims that the degree of interoperability required by the commission was intended to enable competing workgroup server operating systems to function in every respect like a Windows system and, accordingly, to enable Microsoft's competitors to clone or reproduce its products.
The CFI said, "The commission was correct to conclude that the workgroup server operating systems of Microsoft's competitors must be able to interoperate with Windows domain architecture on an equal footing with Windows operating systems if they are to be capable of being marketed viably."
Microsoft has two months to decide whether to appeal this judgement to the European Court of Justice.
Speaking on the ruling Brad Smith, senior vice-president, general counsel, corporate secretary, legal & corporate affairs, said, "We are 100% committed to comply with the CFI."
The decision should be good news for users who wish to connect Linux or other systems to Windows-based networks. Smith said, "With respect to interoperability, a lot of work has been done, some progress has been made, but there some issues that remain open. It has not been an easy process to publish the technical documentation required by the commission. I believes today we have an accurate technical specification that is being used by licensees, and I hope more licensees will use this in the months ahead."
The commission also questioned the licence fee Microsoft charged for licensing these technical documents, which are needed by third-party software companies who need to develop links into products such as Windows and Microsoft Exchange. It remains to be seen whether the commission will accept the licence fee Microsoft currently charges. The charge is currently 1% of the value of European software sales of any product offerning Microsoft interoperability, based on the licenced documentation.
Matthew Szulik, chairman and CEO of Red Hat, said, "In our business, interoperability information is critically important and cannot simply be withheld to exclude all competition."
Read more on IT risk management