Your shout: undervalued support staff deserve respect
Computer Weekly readers have their say
Your shout
Undervalued support staff deserve respect
Martin Guilfoyle
I read your article "IT support staff 'feel valued' by their employers" and could not help laughing, as this statement could not be further from the truth. IT staff are among the most undervalued staff - the big boss does not even know we exist until something goes wrong.

Download this free guide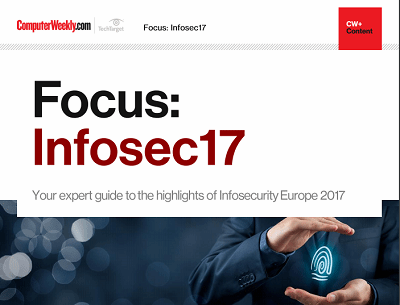 From forensic cyber to encryption: InfoSec17
Security technologist Bruce Schneier's insights and warnings around the regulation of IoT security and forensic cyber psychologist Mary Aiken's comments around the tensions between encryption and state security were the top highlights of the keynote presentations at Infosecurity Europe 2017 in London.
By submitting your personal information, you agree that TechTarget and its partners may contact you regarding relevant content, products and special offers.
You also agree that your personal information may be transferred and processed in the United States, and that you have read and agree to the Terms of Use and the Privacy Policy.
We are like the stuntmen in Hollywood or the SAS troops - we are the unsung heroes at the bottom of multibillion-pound companies. We are the last line of defence when the proverbial hits the fan, and the whip gets cracked at our level when management mess up.
You can also be sure that redundancies hit us first as well.
Managers, team leaders, and management wannabies should think for one second about what would happen if we all decided to walk out one day. Then they would all feel the heat, and maybe realise that we deserve better respect for the position we hold based on the pressure that ultimately finds its way to us - always as a result of someone else's mistakes.
Mittal highlights need for data focus in global firms
Bill Hewitt
Kalido
It comes as little surprise to see Arcelor Mittal scrapping its standardisation plan. It may be feasible for a national company to standardise certain systems and processes, but the largest steel company in the world?
What looks good in the merger presentation rarely lives up to the complexity of the real thing. Large firms need to understand that there will always be differences in business approaches - what works in London doesn't necessarily work in Laos. What is important is the ability to see how a changing business is performing even though operations in different countries - and newly acquired businesses - are not the same.
Companies in this position need to think more about implementing master data management tools to actively manage the information within the organisation and use it to drive commercial success, rather than rigid standardisation of business processes for its own sake.
No excuse for firms' poor control of software assets
Keith Dolby
Real Asset Management
It was disappointing but unsurprising to read that only six out of 70 companies surveyed are attributing any value to software assets in their accounts reporting.
Many organisations' justification for this is that they can see no clear return on investment from an asset register. This is a misnomer asset management is a fundamental business process. It determines value, has a direct impact on profitability, and shows a clearer picture for those looking to invest.
There are simple processes that can be followed to ensure greater information consistency. Recording serial number and asset location as well as value meets not only the needs of the finance team but also provides the information required to track assets in local departments.
Furthermore, although most businesses have systems for recording initial investments, lip service is paid to managing asset disposal. As a result, at least 50% of assets on the books are either so poorly described or are no longer in use, that they cannot be located during a physical audit.
Is there any excuse for such poor control over key business assets?
Outsourcers must invest in customer service
Sanjiv Gossain
Cognizant Technology Solutions
The relaxed attitude towards customer service among technology suppliers is tantamount to corporate suicide, especially when multi-sourcing is now the norm for large organisations.
Outsourcing suppliers must invest both time and money to gain a deep understanding of the client's business - not only at the start of the engagement but as the relationship matures. Whereas the early days of outsourcing were about performing functional tasks more cost-effectively and productively, the present and future need to be about an intimate partnership that enables the customer to meet strategic goals and win market share.
Customer service has never been more important. With companies using multiple IT suppliers, if one fails to deliver there will usually be several others that are only too willing to step into their shoes.
It is not before time for senior government IT officials to wake up to the failure rate of public IT projects ('Less than a third of government IT projects are successful'' 18th May).
An enormous amount of public money has been wasted on poor quality IT projects that have invariably been delivered late and over budget. The majority of problems facing public sector IT projects stem from a complete failure to plan properly prior to the implementation process and could easily be avoided.
By thoroughly defining the objectives and requirements of the project at the outset, and putting in place processes that allow the project to adapt as requirements do, schemes can be run more efficiently. These simple measures at the start of the project can go an enormous way to eliminating time and budget issues further down the line.
Software development should be viewed as a managed business process, which can be successfully regulated like any other project within the business. Only then will projects arrive on time, to budget, and of the required quality.
Have you say: computer.weekly@rbi.co.uk
Read more on IT risk management