Linux alliance established for business apps
Ten open source companies have announced the formation of the Open Solutions Alliance (OSA) [link], a non-profit, supplier-neutral consortium dedicated to promoting open source business solutions
Ten open source companies have announced the formation of the Open Solutions Alliance (OSA), a non-profit, supplier-neutral consortium dedicated to promoting open source business solutions.

Download this free guide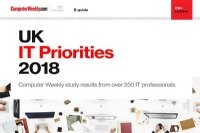 The future of UK tech: Cloudy with a chance of Artificial Intelligence
The forecast for the future is in and, in typical British fashion, it looks like it's going to be cloudy. Our IT Priorities survey has revealed that organisations are planning on making the most of the cloud in the future. Download our IT Priorities results for more insights into where the IT industry is going.
Among its activities, the OSA will work with open source independent software suppliers, systems integrators, and the broader open source community to improve interoperability among software products, with the intent of delivering integrated and rapidly deployable solutions for business users.
Founding members of the OSA include Adaptive Planning, Centric CRM, CollabNet, EnterpriseDB, Hyperic, JasperSoft, Openbravo, SourceForge.net, SpikeSource and Talend.
Leading open source companies including Red Hat, IBM and Novell are not among the members yet.
"More and more companies, from small businesses to global enterprises, are turning to open source software stacks for flexible, affordable solutions to their business challenges," said Barry Klawans, OSA spokesperson and chief technology officer at JasperSoft.
"We're inviting all companies developing and using open source software to work together and ensure the availability of turnkey, enterprise-ready solution suites faster and at a fraction of the cost of traditional proprietary alternatives."
Initially, the OSA will focus its efforts on defining and promoting tools, frameworks and best practices that facilitate easy deployment and interoperability between applications.
It will also build "meta-communities" by partnering on projects that involve a variety of companies, communities and individuals to drive innovation and collaboration.
The OSA will also co-ordinate joint marketing campaigns to raise the awareness of business-hardened, open source applications and solution suites.
Companies interested in joining the OSA should contact membership@OpenSolutionsAlliance.org or visit www.OpenSolutionsAlliance.org
Smaller businesses make most use of open source
Swedish armed forces migrate to Linux

Comment on this article: computer.weekly@rbi.co.uk
Read more on IT for small and medium-sized enterprises (SME)