CIOs choked by storage costs, complexity
The demands of storage can strangle a company's IT budget. Quick fixes won't solve the problem, and neither will hiding your head in the sand.
CIOs are in the middle of a storage crisis, but much of it is of their own making. The proliferation of data, as well as compliance and other legal regulations, is creating a data retention nightmare for companies that they can't seem to wake up from.

But storage doesn't have to put a stranglehold on businesses. Experts say it's just a matter of understanding what you need and where to go to get it.

Download this free guide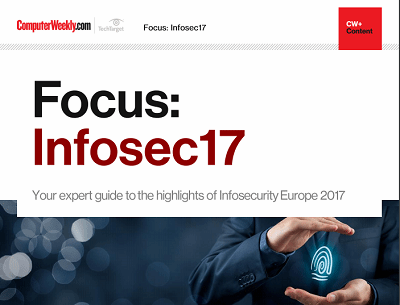 From forensic cyber to encryption: InfoSec17
Security technologist Bruce Schneier's insights and warnings around the regulation of IoT security and forensic cyber psychologist Mary Aiken's comments around the tensions between encryption and state security were the top highlights of the keynote presentations at Infosecurity Europe 2017 in London.

By submitting your personal information, you agree that TechTarget and its partners may contact you regarding relevant content, products and special offers.

You also agree that your personal information may be transferred and processed in the United States, and that you have read and agree to the Terms of Use and the Privacy Policy.

"There are people out there who haven't put in any kind of storage resource management [SRM] and they are drowning in complexity," said Brad Wood, senior director of enterprise technology at Corrections Corporation of America, a private correctional services company.

Wood, who uses an SRM package from Symantec, which specialises in security, management and business continuity products, said the Sarbanes-Oxley Act continues to put huge demands on his storage infrastructure. As a highly regulated business with a huge compliance-induced retention policy, it was impossible for Corrections Corporation to add another storage array and call it a day.

"I should have looked at SRM sooner," Wood said. "[Doing it] late in the game was a bit painful."

"We see companies ignoring the problem," said Joe Trupiano, director of marketing at MicroNet Technology, a provider of disk-based storage products. Or they're putting it on the backburner until they can afford the more expensive solution. Unfortunately, he added, "companies operating without storage plans are like companies operating without legs."

Greg Schulz, founder and a senior analyst at The StorageIO Group, agrees. He said many CIOs, particularly in smaller and mid-sized companies, have just figured out they can't operate business as usual but are not yet tackling the problem head-on.

It's not hard to see why, Schulz said. In the past, the solution was just to buy more storage. Now, it's not only about backup. Today, a CIO has to ask about bandwidth, scalability, management, archiving and retention. Then there are technologies: networked-attached storage, storage area networks, fibre channel.

"People get hung up on the technology," Schulz said. There's a misconception that it's the storage solutions themselves that are more complex, he said, when in reality it's just that buying storage is more complex.

Schultz said there are solutions out there that are not so difficult. If that's the case, where's the challenge?

"Most midmarket CIOs don't have the resources or expertise to dedicate to figuring out a solution," he said. "Suppliers need to help them navigate the waters."

Charles Brown, CIO of Fire Materials Group (FMG), said, "There's so much information out there. The suppliers, the technology out there … the din and clutter could scare the heck out of anybody."

For Brown, going to the channel and finding a solid valued partner (FMG partners with CDW Corp.), played a huge role in his company's storage expansion. "We looked for a supplier that had enough depth and breadth and bandwidth that would put their best foot forward."

The high cost of doing nothing

"The cost of storage can be directly related to the lack of [business continuity] planning," said Josh Howard, data storage specialist at CDW, a large computer reseller.

One reason storage costs so much is because companies are thinking of backup in traditional terms, Howard said. "Stop doing it the way you've always done it."

With limited IT budgets and IT staff, experts say they're not underestimating the struggle of the mid-sized company. Still, they insist that by addressing their storage requirements, businesses can find dozens of options that will fit their needs and budgets.

"I've seen people do some really great things," Howard said. "They're getting the most of their budgets without having to sacrifice redundancy."

Let us know what you think about the story; email: Kate Evans-Correia, News Director
Read more on IT risk management