E-business chill set to linger into next year
It is going to be a long autumn. And a long 2002. For starters, the IT industry is restructuring itself under our noses. The...

Download this free guide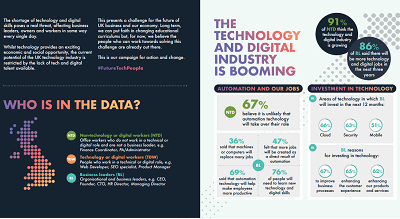 Infographic: How to future-proof UK technology
There is no doubt that the technology industry is booming right now, bringing with it exciting social and economic opportunities. However, there is a real fear that the UK industry may be stunted due to the lack of talent available. This e-guide helps to break down the future fears and expectations of dozens of business leaders and tech workers.

It is going to be a long autumn. And a long 2002. For starters, the IT industry is restructuring itself under our noses. The turmoil is exemplified by the massive Hewlett-Packard takeover of Compaq. The City and corporate users have little appetite for large horizontal mergers. Seasoned observers talk behind the scenes of the time being ripe for vertical mergers, of the order of AT&T with Oracle.



Next, Microsoft's new software licensing regime has sent huge shockwaves through the corporate user community. The impact will be profound as soon as company boards twig the scale of the extra costs and we could see a massive

own-goal here. Users are beginning to scrutinise every penny they spend with Microsoft and rationalise as never before.

Then there is e-business. Although e-infrastructure is being installed widely, its exploitation, and therefore payback, is painfully slow.

The dotcom debacle has highlighted how doing business, both electronically and internationally, is tougher than expected. Global infrastructures to promote trust are simply not in place yet. This is where the thorniest political debates are building up.

The uneasy comprise between Europe and the US over protection of privacy and personal data is in danger of falling apart as US companies drag their feet on self regulation. The European e-commerce directive, which pushes for online disputes to be sorted out in the courts of the consumer country, helps consumers but is a nightmare for e-suppliers - especially smaller ones operating internationally.

There are a host of other escalating debates: encryption policy; e-crime prevention and detection; protection against unsuitable content; intellectual property rights and copyright; agreement on limitations of legal liability; Web taxation; and the establishment in the UK of Ofcom, a new regulatory body to cover IT, telecoms and broadcasting.

Until these issues are resolved there is too much fuzziness. Business requires clarity and certainty to thrive. For e-business that remains a long way off.
Read more on IT legislation and regulation