SEBI implements fraud investigation solution by SAS
Due to a rise in frauds, SEBI has deployed SAS software for investigation. Find more on SEBI's fraud investigation effort.
The Indian securities market regulator, Securities and Exchange Board of India (SEBI), has implemented a data integration solution using SAS data warehousing and business analytics technologies for fraud investigation. To assist fraud investigation efforts of SEBI, the SAS solution will monitor and spot market malpractices and thus ensure trading compliance. The solution combines technologies including data warehouse, text mining, analytics, and predictive modeling and can handle big data, according to a press release issued by SAS.

Download this free guide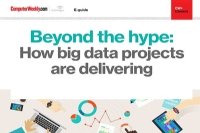 To infinity and beyond: Big data delivering beyond the hype
Despite Gartner placing it in its famous "plateau of productivity", big data has and still is, delivering beyond the hype. We look at a few high-profile examples of how organisations are reaping the benefits of their big data projects.
SEBI's data warehouse is an intelligent system where analytics run within the warehouse, rather than outside. With the help of SAS Scoring Accelerator, the data warehouse can process the core statistical and analytic functions, thus reducing movement of data while taking advantage of parallel processing. It can also prevent data inconsistency while promoting better data governance, mentions the release.
SEBI plans to build analytical models using SASEnterpriseMiner to investigate the known market manipulation patterns that may be linked to frauds. It will monitor circular trading, pump and dump, insider trading, and front running. SAS claims that its solution can also identify unknown patterns for the SEBI investigators to analyze and detect any new market manipulation pattern leading to fraud(s).
The new solution will help SEBI to establish relationships between market participants and generate accurate fraud alerts based on the participants' behavior. With the new fraud investigation solution, SEBI intends to tap unstructured data, including analyst recommendations, blogs, annual reports, etc., to understand social media impact on investor behavior.
The solution, in addition to fraud investigation, can give SEBI a single view of all market participants across the securities exchanges in India. SEBI uses SAS Enterprise Data Integration Server to load its warehouse with disparate data from multiple exchanges countrywide. The SAS Data Quality component cleanses, standardizes, and removes duplicate data to build a single-entity view of market participants, states the release.
"Pulling data into our warehouse and analyzing it the next day is our single most important task. With SAS solution, we maintain uniformity, making data easier to analyze. The result has been smart investigations for quick results," says Avneesh Pandey, general manager at SEBI. Pandey heads technology projects for SEBI's surveillance, fraud investigations, and research departments. "SAS solution offers data integration and management the core of our data warehouse. Data loading is crucial. We collect about 25GB of data per day. The data volume is projected to reach 80GB per day in two years. With SAS, we can accelerate the process of utilizing this data," says Pandey hinting at the features its fraud investigation solution.
Read more on Business intelligence and analytics