Downtime: Work it out for yourself with Enigma on eBay
You may remember Downtime telling you last month about the last remaining uncracked Enigma messages, which are falling one by one to the combined computing power of a distributed project.
Work it out for yourself with Enigma on eBay
You may remember Downtime telling you last month about the last remaining uncracked Enigma messages, which are falling one by one to the combined computing power of a distributed project.

Download this free guide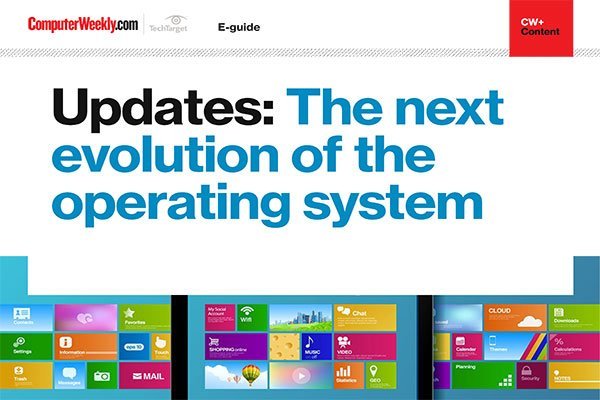 Unpacking the future of operating systems
In this e-guide, we take a look at how updates are the next evolution for operating systems. From security and iris recognition to 3D modelling and easier recognition with OneDrive, updates are key to keeping your device fresh and, most importantly, safe.
Once these messages are gone they're gone - which will presumably leave a bit of a gap in the lives of enthusiasts of the Second World War code-breaking machine.
If any of them feel the need to fill that gap and have a few pounds to spare, they could do worse than bid for the fine-looking example of an Enigma machine that has been selling on eBay for the past week.
The machine is being sold by a registered "eBay shop" in Munich, which uses the online auction house to sell items for customers. A spokesman at the shop said the machine was brought in by a customer who got it from his grandfather.
As Downtime went to press, bids on the Enigma machine - which is in working order and comes with two spare rotors - had reached £8,500, but the unsentimental seller is said to be aiming for a final price of £28,000.
But before you get too excited and reach for your computer with credit card in hand, the bad news is that the auction will have closed by the time you read this. The final day for bidding was 3 April. Sorry about that.
Will digital talent scout make you a singing star?
TV talent shows have a lot to answer for, in Downtime's humble opinion, clogging the airwaves as they do with wall-to-wall singing mediocrity.
It is with a heavy heart, then, that Downtime has received news of the latest techno-variant on this unwelcome addition to popular culture.
VoxGen, a speech recognition specialist, has linked up with a hosted speech provider called Vocability to launch Ring 'n Sing. The service is designed to let "singing enthusiasts" test their ability to carry a tune by pitching their favourite song over the phone and having their effort marked against the performance of a professional artist.
The technology that makes this pointless - and probably tuneless - exercise possible is a pitch-tracking algorithm which compares the two voices before spewing out a score based on its findings.
With masterful hyperbole, Vocability said, "The services will allow people to use a traditional communications channel to discover a new form of entertainment, and perhaps even become a star!"
Downtime has its doubts.
Indiana Jones gets in touch with his geeky side
IT security chiefs may not all look like Harrison Ford, but the release last Friday of the latest Ford thriller, Firewall, is unlikely to do their social standing any harm at all.
Ford is 63 now, and seems to have spent the latter half of his career playing the same role of man-in-suit-under-pressure. This time around, Ford is Jack Stanfield, the security head of a Seattle bank, who is forced by some nasty criminals to rob his own bank after his family are kidnapped.
Since he is an IT guy, he obviously does all this electronically in various flashy computers-in-the-movies ways, until - wait for it - he decides to start fighting back.
The action includes some nicely implausible techie touches to keep the indignation levels high among the IT community. These include the criminal mastermind behind it all - who is, naturally enough, a computer expert himself - hacking into an e-mail Ford is writing while he is writing it. Clever stuff.
Apple lowers iPod volume to a dull roar
Mums, dads and commuters the world over will be pleased to hear that Apple has put out an update which caps the volume levels on its iPods.
The update means users can set how high the volume goes, as well as letting concerned parents get in on the act to impose the maximum volume on their child's iPod and lock it with a code.
Apple said it was responding to consumer demand with the update. But Downtime cannot help but wonder whether it has something to do with an impending court case where Apple will hear a Louisiana man claim that the iPod can cause hearing loss in those who use it.
Without the filter, Downtime has it on authority that iPods can produce sounds of more than 115 decibels - a volume that can damage the hearing of a person exposed to the sound for more than 28 seconds per day (which is a bit on the precise side, but it makes the point).
At the moment, Apple's machines are shipped with a warning that if you play the things too high they will damage your hearing. It does not mention anything about how you will also annoy everyone who is sitting near you on the train, but it really should do.