HP revamps midrange storage
Hewlett-Packard has announced upgrades to its midrange storage products, including disc-to-disc or disc-to-tape backup...
Hewlett-Packard has announced upgrades to its midrange storage products, including disc-to-disc or disc-to-tape backup functionality with its StorageWorks Data Protector software and its first array that can use both SCSI and Serial ATA disc.

Download this free guide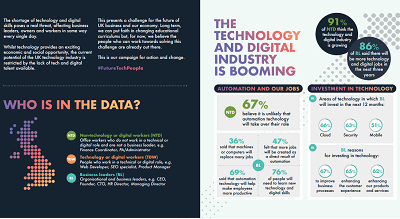 Infographic: How to future-proof UK technology
There is no doubt that the technology industry is booming right now, bringing with it exciting social and economic opportunities. However, there is a real fear that the UK industry may be stunted due to the lack of talent available. This e-guide helps to break down the future fears and expectations of dozens of business leaders and tech workers.
The HP StorageWorks Modular Smart Array 1500 cs offers tiered storage in a single enclosure with concurrent support for both SCSI and Serial ATA behind a single controller shelf. Data Mobility Group analyst Dianne McAdam said this sort of functionality was targeted at the small to mid-size enterprises that HP has been aggressively courting.
Frank Harbist, general manager of HP's network storage solutions software, said the 1500 cs could scale to 24Tbytes of raw capacity using 250Gbyte Serial ATA disc drives, and up to 16Tbytes using 300Gbyte SCSI drives, and could be managed by the same software that controlled the ProLiant family of servers. Prices for the 1500 cs start at $8,995 (£4,700).
HP said it has added about 200 new functions to its StorageWorks Data Protector software, including advanced backup to disc and tape and to multiple targets.
"So if you want to take a snapshot of the data once a minute, do replications once an hour, perform disc-based backup once a day and tape backup once a week, it can all be done on this one application," said Rick Luttrall, chief technology strategist for nearline storage at HP. "We can mirror to a disc drive or tape drive simultaneously, and restore from either."
Devin York, director of financial systems for Continental Airlines, said he liked the updates to StorageWorks Data Protector v5.5 and planned to upgrade in the first quarter of next year.
York currently has a storage-area network with about 20Tbytes of capacity on two HP Storageworks XP512 arrays, and likes the security of being able to save data to disc and tape simultaneously.
"The one project I am working on next year is disc-to-disc backup," he said. "The problem with tape is that as the data grows, I've got to keep adding expensive tape drives. With disc-to-disc backup, I can add extremely cheap storage as a staging device."
Luttrall said that HP's Data Protector software included metadata and policies with every data set it stored, so it could be more easily restored or migrated between older and newer tape and disc technologies.
HP also announced its version of the third generation of Linear Tape Open, or LTO-3, tape drive technology, increasing storage capacity from 400Gbytes to 800Gbytes compressed. And HP's StorageWorks Ultrium 960 drive now has write-once, read-many capability.
Lucas Mearian writes for Computerworld