Epson working on e-paper delivery by 2010
Seiko Epson is developing flexible display technologies that will usher in the commercialisation of electronic paper before the...
Seiko Epson is developing flexible display technologies that will usher in the commercialisation of electronic paper before the end of the decade and ultimately lead to TVs that can be peeled off walls, a company scientist has said.

Download this free guide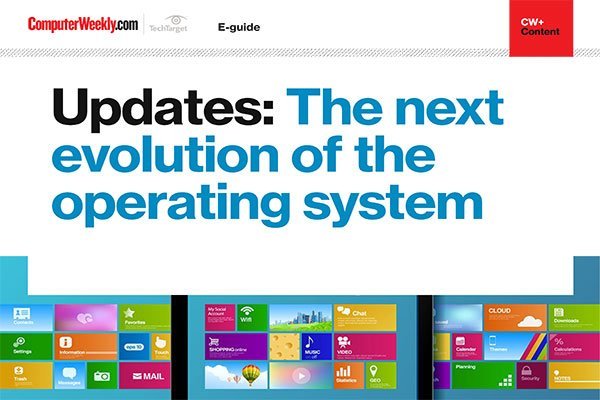 Unpacking the future of operating systems
In this e-guide, we take a look at how updates are the next evolution for operating systems. From security and iris recognition to 3D modelling and easier recognition with OneDrive, updates are key to keeping your device fresh and, most importantly, safe.
At a presentation last week, Tatsuya Shimoda, director of Seiko Epson's technology platform research centre, said the company was developing e-paper that could be rolled up and folded. He predicted that e-paper replacements for paper-based newspapers or magazines would be on the market within five years.
The 0.2mm-thick e-paper sheets will be displays mounted on flexible plastic backings. Seiko Epson wants to develop the technology to the point where an A4 sheet could survive between one and three months of wear and tear (the more that e-paper is folded, the faster it will degrade). Shimoda said that such a sheet would cost well under ¥10,000 (£50).
Users could download presentations onto e-paper sheets slotted into the back of their PCs and hand them out in meetings. Sheets could be put into binders and read like books if people wanted. Shimoda said that users would be able to download (via wired and wireless technologies) a page's worth of information in about a second.
"E-paper will be very light and very readable and very thin, and our vision is to have whole newspapers downloaded electronically," Shimoda said.
Seiko Epson believes that e-paper, in Japan at least, could work out less than the equivalent cost of buying daily newspapers and several glossy magazines each month. In Japan, daily newspapers typically cost around 50p each, while fashion monthlies can cost £5 each.
The company's e-paper development is based on its experience of printing organic thin-film transistors onto flexible substrates. Seiko Epson has already printed displays several inches in diameter onto flexible plastic sheets. Other applications include electronic tags that can be pasted on and peeled off bottles.
The company also believes it can make giant TV panels light and flexible enough to be peeled off and on walls. The panels could combine active matrix organic LEDs with thin film transistor technology and would also be seated on plastic.
The company is still vague on when peelable TV panels might become a reality but Shimoda has a date in mind.
"I am 50, so I would like to develop the technology before I retire," he said.
Paul Kallender writes for IDG News Service