IBM retakes supercomputer crown
With a performance almost double that of the Japanese Earth Simulator, IBM's Blue Gene/L was officially ranked as of yesterday...
With a performance almost double that of the Japanese Earth Simulator, IBM's Blue Gene/L was officially ranked as of yesterday first on the Top500 list of the world's fastest supercomputers. The company built four of the top 10 machines on the list.

Download this free guide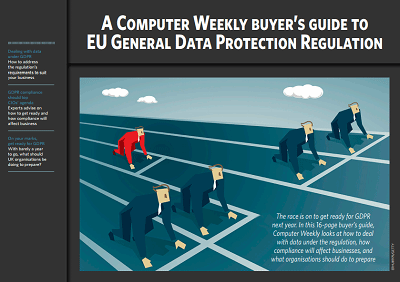 Computer Weekly's Buyer's Guide to GDPR
The race is on to get ready for GDPR next year. Computer Weekly looks at how to deal with data under the regulation, how compliance will affect businesses, and what organisations should do to prepare.
Blue Gene/L is a 33,000-processor prototype of a much larger $100m (£54m) system to be delivered to the Lawrence Livermore National Laboratory in California during the first half of next year. The system can perform 70.72 trillion calculations per second, making it the first new system to top the list since the Earth Simulator first appeared in 2002.
When fully assembled at Lawrence Livermore, Blue Gene/L will have 130,000 processors and an estimated peak performance of 360 teraflops, according to IBM. A teraflop is one trillion calculations per second.
In second place on the Top500 ranking comes the 10,240-processor Columbia supercomputer, built by Silicon Graphics for Nasa. With a benchmarked performance of 51.87 teraflops, it easily beat NEC's Earth Simulator, which clocked up 35.86 teraflops.
The Top500 list is compiled every six months from results voluntarily submitted by owners or makers of supercomputers. It is based on the Linpack benchmark, which gauges the speed with which the systems can run certain mathematical operations.
Though Linpack is sometimes criticised for not being a universal indicator of overall performance, a high ranking on the Top500 is highly coveted, and computer makers have been scrambling to outdo each other with benchmark results over the past few months.
Erich Strohmaier, a computer scientist at the Lawrence Berkeley National Laboratory in California and one of the maintainers of the lis, said that despite the unusual amount of jockeying between suppliers, the Top500 list had become a two-player game in recent years. Between them IBM and Hewlett-Packard have built more than 75% of the systems on the list.
While most Top500 systems are built in the US, Asian countries are catching up, according to Strohmaier . China, for example, had 17 systems on the list. "That is substantially up from nine a year ago," said Strohmaier. "It was only a few years ago that we had the very first Chinese system."
Robert McMillan writes for IDG News Service
Read more on Server hardware