CipherTrust takes on spammers
CipherTrust has released Connection Control, a new component of the company's IronMail product, designed to foil spammers.
CipherTrust has released Connection Control, a new component of the company's IronMail product, designed to foil spammers.
Connection Control uses source filtering to examine the IP address of an e-mail server sending an e-mail. If the server is a known spammer, the e-mail is refused, said Matt Anthony, product manager at CipherTrust.

Download this free guide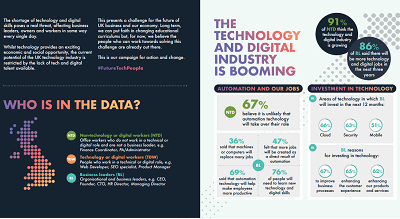 Infographic: Future-proofing UK technology
The current potential of the UK technology industry is restricted by the lack of tech and digital talent available. Read through this challenge for the future of UK business and our economy.
By submitting your personal information, you agree that TechTarget and its partners may contact you regarding relevant content, products and special offers.
You also agree that your personal information may be transferred and processed in the United States, and that you have read and agree to the Terms of Use and the Privacy Policy.
Connection Control works with IronMail and its Spam Profiler component. Spam Profiler identifies spam offenders and then Connection Control blocks connections from those offenders at the edge of the network.
CipherTrust officials said Connection Control has the ability to consistently reject close to 50% of all connection attempts from known spammers. As a standard component on all IronMail appliances, Connection Control will provide existing IronMail customers with the scalability to handle the increasing amount of unwanted mail, said Anthony.
Connection Control takes both a defensive and offensive approach to blocking spam. It blocks inbound mail from spammers for a pre-determined period of time, meaning the spam messages are never processed by IronMail.
The offensive approach takes the anti-spam battle to the spammers by limiting the bandwidth and resources available to a targeted IP address. That option consumes spammer resources and makes the spam less profitable, according to Anthony.
"Maybe even more satisfying is that it can even cost spammers time and money by making it more expensive for them to deliver unsolicited mail," he said.
One company already using Connection Control, Cox Communications, said the product rejected 15,000 spam messages an hour.
"The new technology in IronMail allows us to laser in on the worst offenders and reject their spamming attempts at the network edge," said Franklin Warlick, messaging systems administrator at Cox.
Several other companies, such as IronPort and MiraPoint, are also using proactive e-mail security methods to deal with spam.
Bob Francis writes for Infoworld