Bush campaign website blocks overseas visits
Net surfers outside the US interested in US president George Bush's re-election strategy aren't currently able to learn about it...
Net surfers outside the US interested in US president George Bush's re-election strategy aren't currently able to learn about it from his campaign website. Visitors from a number of international locations reported hitting "access denied" errors as they tried to reach the site on Tuesday 26 October.
Web surfers in London; Paris; Oslo; Linz, Austria; and Taipei encountered a "403 Forbidden" access-denied error page when they tried to contact Bush's website, GeorgeWBush.com. Surfers in the US reported no problems.

Download this free guide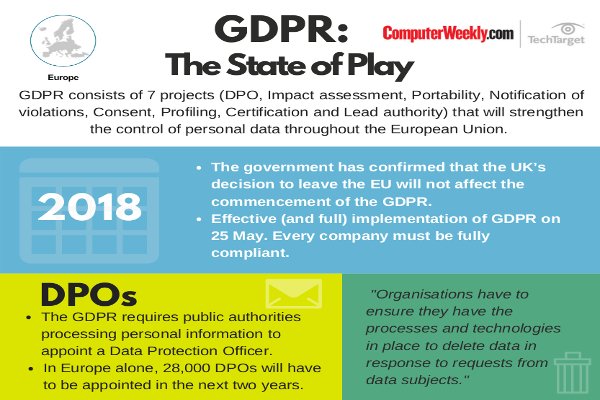 Infographic: GDPR - The State of Play
Get the latest information on how GDPR is going to affect your business and how to avoid any unwanted fines with this simple infographic.
By submitting your personal information, you agree that TechTarget and its partners may contact you regarding relevant content, products and special offers.
You also agree that your personal information may be transferred and processed in the United States, and that you have read and agree to the Terms of Use and the Privacy Policy.
GeorgeWBush.com is the official website of Bush-Cheney '04. The site features campaign material such as advertisements along with Bush's position statements and policy plans. The site also includes a link to an outside site processing campaign donations; surfers both outside and inside the US said they were able to reach the donation website.
A Bush-Cheney campaign spokeswoman referred questions to Michael Turk, the organisation's internet campaign director. Turk did not return several calls seeking comment.
UK analysis firm Netcraft said the Bush site appears to be using network management technology from Akamai Technologies to restrict access. Netcraft monitors website response times from several locations, four in the US and three outside. Since Monday 25 October, requests to GeorgeWBush.com have failed from Netcraft's London, Amsterdam and Sydney stations.
GeorgeWBush.com began using Akamai to manage site traffic on 21 October, following a six-hour site outage early last week, according to Netcraft. An Akamai spokeswoman declined to comment on the operations of GeorgeWBush.com.
Web performance monitoring firm Keynote Systems also confirmed access restrictions on the website. Senior internet analyst Roopak Patel attempted to reach GeorgeWBush.com using several of Keynote Systems' computers around the world. He found that the website is available from the US and Canada, but not from many other locations, including Oslo, Brussels, London, Amsterdam and Lisbon in Europe; Tokyo, Taipei, and Sydney in the Asia-Pacific region; and Mexico City and Rio de Janeiro.
International web surfers said they had no problems accessing JohnKerry.com, the official campaign website of Bush's challenger.
The US presidential election will be held on 2 November.
Stacy Cowley writes for IDG News Service
Read more on IT legislation and regulation