Committee chairman vows to keep fighting for Gateway publication
Archy Kirkwood, chairman of the House of Commons' Work and Pensions Committee, has vowed that MPs will continue to fight for more...
Archy Kirkwood, chairman of the House of Commons' Work and Pensions Committee, has vowed that MPs will continue to fight for more openness and accountability on government IT projects.

"We will not go away," he said, after the government dismissed or sidestepped most of the recommendations made by his committee after its eight-month investigation into the common causes of failures and successes of major IT projects.

The work and pensions committee produced a "cogent and carefully worded report" which took account of the sensitivities of business relationships and the need for some commercial confidentiality. But the government's response "danced around all the recommendations and did not answer the questions", he added.

Kirkwood said one of the most important achievements of the committee was to firmly establish that IT suppliers' representatives were in favour of Gateway reviews being published, so the desire for confidentiality reflected the will of senior civil servants and ministers, not suppliers.

Kirkwood said the argument that suppliers wanted to keep the reviews secret had been "wiped away completely".

Kirkwood wanted his committee's report to be debated in the House of Commons. The committee is also considering seeking an audit of the management of the Child Support Agency's IT project, part of the Department for Work and Pensions.

Download this free guide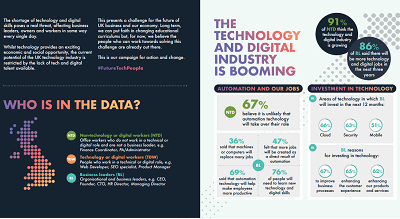 Infographic: How to future-proof UK technology
There is no doubt that the technology industry is booming right now, bringing with it exciting social and economic opportunities. However, there is a real fear that the UK industry may be stunted due to the lack of talent available. This e-guide helps to break down the future fears and expectations of dozens of business leaders and tech workers.
Inquiry's lessons
"Our main recommendations for improving the success rate of IT systems centre around improving accountability. We believe that greater openness is important in its own right, but should also lead to a higher success rate"
"The necessary standards and methodologies of best practice are already in the public domain. The trick seems to be to get key people - from ministers to project teams - to comply with the standards"
"We have yet to see evidence of brave decisions by ministers to re-focus or delay projects at an early stage. We suspect that too often civil servants may find it extremely difficult to say no to ministers, or if they do, may only do so when it is too late"
"In our view, the decision to shed its skilled IT staff undermined the Department for Work and Pensions' ability to monitor or assess the work of its IT suppliers."
Source: Department for Work and Pensions report, "Management of IT projects, making IT deliver for DWP customers"
MPs given little comfort on state of Child Support Agency systems >>
Read more on IT legislation and regulation