Intel researches optical connect for laptops and servers
Intel is developing an optical interconnect technology to replace copper ribbons in laptop computers and servers that should be...
Intel is developing an optical interconnect technology to replace copper ribbons in laptop computers and servers that should be ready for commercial use within three to five years.

Download this free guide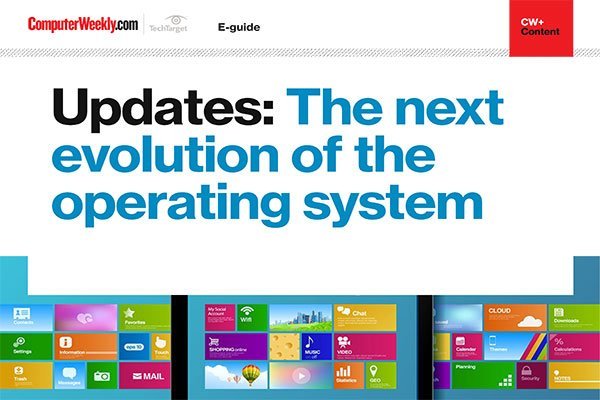 Software Updates: Our latest e-guide is available for your device. Download now?
See how operating systems are evolving with the help of continuous updates and learn about how the Spectre and Meltdown microprocessor flaws have led to improved, more secure processors being released and how Microsoft is evolving its Windows desktop operating system.
The laboratory is also working on an optical interconnect technology for chip packages that could be ready between five and 10 years from now, Justin Rattner, Intel senior fellow and director of the company's systems technology labs, said.
"We have built short-range optical links that we believe will be cheaper, less noisy, and smaller than copper ribbons. You can get high-speed signals and you can get rid of the need of having to use copper ribbons," he said.
The optical interconnect technology aimed at laptop and servers uses tiny lasers and fiber-optic cables to transmit data at multi-gigabit speeds over a distance of about half a metre. While Intel has not yet approached PC and server suppliers, the company is collaborating with optical switch and network technology suppliers, and is confident that the technology can be made ready for volume production in three to five years.
"What we are looking at is using it to feed display data from the motherboard to the screen, or using it for servers to route high-speed, gigabit traffic in dense server environments," he said.
Another potential application is using the technology to replace serial ATA (Advanced Technology Attachment) interconnects, he said.
"Results are very promising. There is a lot of opportunity to move from copper to high-speed optical equivalents. When we have a really solid design, then we will go to the appropriate systems suppliers," he said.
The biggest issue with optical connect technology is cost, he said.
Optical communications systems, traditionally used for trunk data routing over thousands of kilometres or in networks across cities, need lasers and devices to convert data in electrical signals to optical signals and then reconvert those optical signals back to their electrical form.
Although they are expensive now, Intel hopes that by the time optical interconnect technology is commercialised, an interconnect could be made for about $5 (£2.76) to $7. A laptop copper ribbon costs about $10 to $15, he said.
Rattner said that until recently the company had been focused on how to make its processors faster. But the company's systems technology labs these days is concentrating more on developing technologies to help chips perform more efficiently, and systems talk to each other better.
Paul Kallender writes for IDG News Service