Cisco introduces integrated routers
Cisco is to introduce a line of branch-office routers that integrate basic routing capabilities with IP voice support and...
Cisco is to introduce a line of branch-office routers that integrate basic routing capabilities with IP voice support and security tools.
Features such as data caching and IP telephony have been available as add-ons to Cisco's existing branch routers for some time. But they severely limited the basic processing abilities of the routers, said Jeff Wilson, an analyst at Infonetics Research.

Download this free guide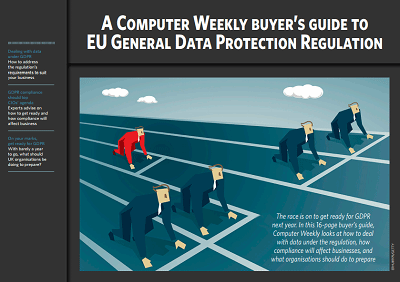 Computer Weekly's Buyer's Guide to GDPR
The race is on to get ready for GDPR next year. Computer Weekly looks at how to deal with data under the regulation, how compliance will affect businesses, and what organisations should do to prepare.
Cisco has designed the new routers with increased memory and CPU capacity to overcome that problem, he said.
The Integrated Services Router line includes seven models, two are aimed at corporate branch offices, while four were designed for smaller branches and one is intended for use by small businesses. All are due early next month, said Dave Frampton, a senior marketing director.
IP telephony support
RBC Dain Rauscher plans to deploy Cisco's new 2821 router at five US branches serving a total of 150 workers. If the pilot roll-outs are successful, the brokerage firm will install the routers at up to 180 locations and convert the offices to IP telephony, said Rich Blasing, managing director of infrastructure services.
"This router product is architected with IP telephony in mind, while the previous attempts were add-on modules," he aid. "Collapsing functions on one box is a big feature because it makes things simpler and, from a support standpoint, a lot cleaner."
Because the 2821 will enable branch-office workers to move, add and change IP phones on their own, network operating costs should go down over time, Blasing said. And with the routers supporting IP telephony in the branches, RBC Dain Rauscher's annual telecoms budget is expected to drop 20%, he said.
Wilson said Cisco developed the Integrated Services Router line in the face of competition from suppliers such as Juniper Networks, which acquired NetScreen Technologies in April so it could integrate NetScreen's security capabilities into its routers.
David Willis, an analyst at Meta Group, agreed that competition pushed Cisco to release the new routers. But he added that "the idea of using a single modular platform just makes sense".
Matt Hamblen writes for Computreworld
Read more on Server hardware