AMD demos first dual-core processor
Advanced Micro Devices (AMD) has demonstrated the company's first dual-core microprocessors.
Advanced Micro Devices (AMD) has demonstrated the company's first dual-core microprocessors.
Dual-core processors, set to hit the market next year, offer improved performance over single-core chips, especially in multithreaded applications.

Download this free guide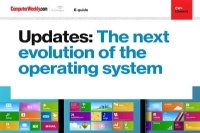 Unpacking the future of operating systems
In this e-guide, we take a look at how updates are the next evolution for operating systems. From security and iris recognition to 3D modelling and easier recognition with OneDrive, updates are key to keeping your device fresh and, most importantly, safe.
AMD's demonstration included a Hewlett-Packard Proliant DL585 server running four dual-core Opteron processors.
An updated Basic Input Output System (Bios) - the interface between a computer's hardware and operating system - was all that was required to get the four-way server up and running with the dual-core chips, AMD said.
The chips, which contain two processor cores and 1Mbyte of level 2 cache for each core, use the same 940-pin socket used by AMD's single-core Opteron processors manufactured with a 90-nanometer process, said the company.
This compatibility will allow HP, Sun Microsystems and IBM to incorporate dual-core Opterons in existing systems that are designed for the Opteron, AMD said.
In addition, users will be able to upgrade existing systems that are compatible with the 90-nanometer single-core processors to dual-core chips.
The dual-core Opteron chips, which were produced using a 90-nanometer process, are expected to be available commerically by the middle of next year.
The company plans to make available dual-core chips that are designed to be used in servers running from one to eight processors.
Dual-core processors designed for desktop PCs will be made available during the second half of 2005.
AMD rival Intel also plans to make available a full range of dual-core processors in 2005.
Sumner Lemon writes for IDG News Service