MCI offers cash back for poor internet service
MCI has announced new service-level agreements (SLAs) for internet service performance that offer increased service thresholds...
MCI has announced new service-level agreements (SLAs) for internet service performance that offer increased service thresholds and guarantees for IP traffic internationally.

Download this free guide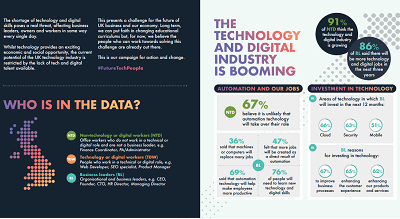 Infographic: How to future-proof UK technology
There is no doubt that the technology industry is booming right now, bringing with it exciting social and economic opportunities. However, there is a real fear that the UK industry may be stunted due to the lack of talent available. This e-guide helps to break down the future fears and expectations of dozens of business leaders and tech workers.
The SLAs are aimed at businesses that deploy internet applications and services to their business centres nationally and internationally.
"Businesses today are deploying sophisticated applications to remote locations, but often have no guarantee that these remote locations have good availability to use these applications. These new services aim to remove that barrier," said Ralph Monfort, MCI's director of internet access services.
MCI has tightened its SLAs for IP traffic between key global business centres and added more stringent network performance guarantees for latency and additional packet guarantees.
The company improved its guarantee of latency around the world, dropping the speed from 55ms to 45ms in North America and from 55ms to 30ms in Europe. MCI defines latency as the speed in which traffic travels the company's global backbone.
MCI also introduced a jitter guarantee of 1ms for US traffic. That guarantee is aimed at voice-over IP (VoIP) applications.
The company has increased its availability guarantees. That guarantee is 100% if the service is ordered and deployed from MCI. This goes all the way to the local loop, said Monfort. "We have confidence in our ability to guarantee this or we wouldn't be doing it," he said.
That is a significant money-back guarantee, said Steven Harris, an analyst at IDC. "This can be very important to a company. MCI backs that up with a customer credit that is offered proactively. A proactive credit is unusual. Most companies make the customer monitor service and request credit," he said.
Harris said MCI is to be applauded for attempting to simplify SLA contracts. "Most SLAs are full of legalese that is subject to a lot of interpretation. Companies are starting to look at their SLAs more closely and MCI is right on target trying to make them easier to understand and to be proactive with the customer," he said.
MCI is applying the new SLAs to its existing customers, said Monfort.
Bob Francis writes for InfoWorld
Read more on IT supplier relationship management