Sun considers open-source JES
Sun Microsystems is considering offering some of its Java Enterprise System (JES) under an open-source licence, although no final...
Sun Microsystems is considering offering some of its Java Enterprise System (JES) under an open-source licence, although no final decisions have been made.

Download this free guide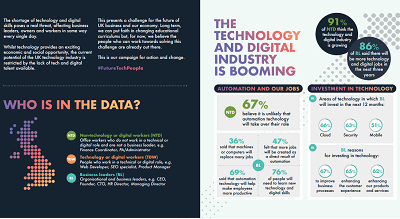 Infographic: How to future-proof UK technology
There is no doubt that the technology industry is booming right now, bringing with it exciting social and economic opportunities. However, there is a real fear that the UK industry may be stunted due to the lack of talent available. This e-guide helps to break down the future fears and expectations of dozens of business leaders and tech workers.
Less than a month after releasing source code for a 3D user interface technology called Looking Glass, executive director of JES marketing Stephen Borcich said the company was "considering open sourcing Java Enterprise System".
Sun chief technology evangelist Simon Phipps, said that although he had only heard rumours about the plan "it would make sense since Sun is developing a subscription model".
JES is a package of server software including Sun's application, web, directory, security and communication and collaboration offerings. The system is integrated with much of the company's hardware products and has been a central focus of Sun's new subscription-pricing push.
The company has been trying to drum up demand for the middleware stack by offering it to enterprises for $100 (£53) per employee. It has also targeted governments by offering per-citizen pricing at a cut rate.
RedMonk analyst James Governor said that it would "be very, very surprising if they didn't open source any component of JES in the next 12 months".
It would serve as a welcoming gesture to the open-source community while at the same time acting as a "disruptive" move toward competitors endorsing only proprietary technology, he added.
IDC analyst Martin Hingley said that there is a lot of Java development going on and that by opening up JES Sun could benefit from some "cross-pollination" of technology. However, he said he was concerned over how the move would affect the company's revenue stream, given that it remains financially challenged.
"From a business model perspective they would really need to build some sort of service and support strategy, offering to provide middleware expertise that's better than what anyone else can give," Hingley said.
Sun has been receiving increasing calls lately to open its Java platform, but the company has shown ambivalence to the move.
At the same time it has been trying to welcome the open-source community, by offering up Looking Glass and said it is going to release some source code from its Solaris operating system under an open-source licence, for example.
Scarlet Pruitt writes for IDG News Service