Red Hat releases Sistina software under GPL
Five months after completing its $31m acquisition of Sistina Software, Red Hat has released the source code for all of Sistina's...
Five months after completing its $31m acquisition of Sistina Software, Red Hat has released the source code for all of Sistina's proprietary software under an open-source licence.

Download this free guide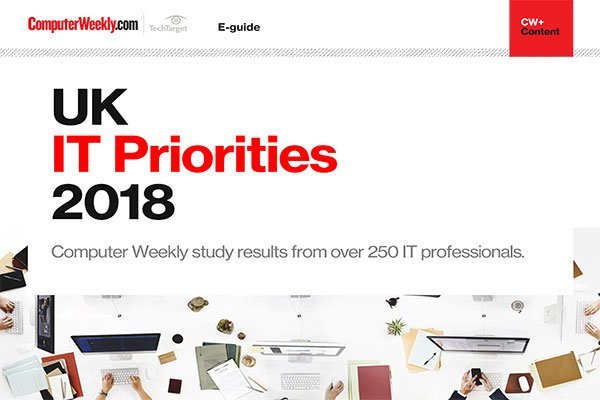 UK IT Priorities 2018 survey results
Download this e-guide to discover the results of our 2018 UK IT Priorities survey, where IT leaders shared with us what they are going to be investing in over the coming 12 months.
By submitting your personal information, you agree that TechTarget and its partners may contact you regarding relevant content, products and special offers.
You also agree that your personal information may be transferred and processed in the United States, and that you have read and agree to the Terms of Use and the Privacy Policy.
Red Hat has released the source code to Sistina's Global File System, or GFS, and its distributed lock manager and membership services software.
Red Hat is also developing a clustered version of Sistina's logical volume manager, which will be released early in 2005, said Matt O'Keefe, Red Hat's director of storage services.
The Global File System can be used to give as many as 300 Linux servers access to data stored on a storage area network (San) and has been used for e-mail, web and file-serving, and with Oracle 9i RAC (Real Application Clusters) applications, O'Keefe said.
Originally designed as open-source software by researchers at the University of Minnesota, GFS became a proprietary product in 2001 after the research team left the university to form Sistina.
Developers continued to work on an open-source version of GFS, called the OpenGFS project, and Red Hat would now like to merge the two projects, O'Keefe said.
OpenGFS developers will be meeting with Red Hat engineers in Minneapolis the week of 25 July to work out a plan for integrating GFS and OpenGFS.
"We enthusiastically want to make this a community project," O'Keefe said.
The software is similar to an open-source file system released by Oracle in 2002, called the Oracle Cluster File System. However, the Oracle product is designed only for use with Oracle's databases, but GFS is a general purpose file system.
But because Oracle already has a product in this space, Red Hat may have a hard time convincing Oracle users to deploy GFS instead of Oracle's file system, said Dan Kusnetzky, an analyst with research firm IDC.
"It's going to be a very challenging place to compete," he said. "If I was on an Oracle environment, why would I bring in something else?"
Kusnetzky said he was not surprised by Red Hat's open-source release of GFS, which had been promised since Red Hat completed the Sistina acquisition. It released the software under the popular GNU General Public Licence (GPL).
"This is expected," he said. "This is Red Hat's approach. They seem to insist on GPL software."
Robert McMillan writes for IDG News Service
Read more on Operating systems software