FTC puts off do-not-e-mail list
The US Federal Trade Commission (FTC) will not start a national do-not-e-mail list immediately, despite a law passed last year...
The US Federal Trade Commission (FTC) will not start a national do-not-e-mail list immediately, despite a law passed last year that calls for the agency to develop a plan for such a list.

Download this free guide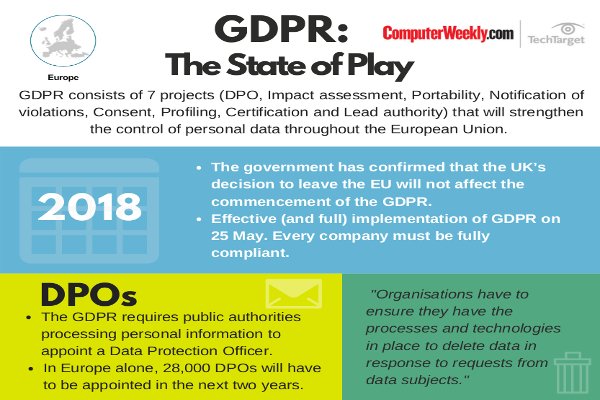 Infographic: GDPR - The State of Play
Get the latest information on how GDPR is going to affect your business and how to avoid any unwanted fines with this simple infographic.
By submitting your personal information, you agree that TechTarget and its partners may contact you regarding relevant content, products and special offers.
You also agree that your personal information may be transferred and processed in the United States, and that you have read and agree to the Terms of Use and the Privacy Policy.
A do-not-e-mail list could be used by spammers to send consumers more unwanted commercial e-mail, FTC chairman Timothy Muris said.
The commission, in a report to Congress, instead advocated that internet service providers (ISPs) continue to work on domain-level e-mail sender authentication technologies that would ensure e-mail comes from the domain it said it has come from.
Microsoft and major ISPs have announced e-mail authentication initiatives in recent months. The FTC said that without some way to identify spammers, a national do-not-e-mail list would be useless. The FTC received advice from three computer scientists and more than 7,000 comments before issuing its report.
"Under current technology, any do-not-e-mail list would become a do-spam list," Muris said. "Consumers will be spammed if we do a registry and spammed if we do not."
Under the Controlling the Assault of Non-Solicited Pornography and Marketing (Can-spam) Act, which became law in January, the FTC is required to report to Congress about the feasibility of a do-not-e-mail list and create a plan for a list.
Senator Charles Schumer, the main supporter of a do-not-e-mail list, modeled his proposal on a national do-not-call telemarketing list, which has been popular with US residents.
The FTC's decision to not move forward with the do-not-spam list leaves consumers with no recourse against spammers, said Ray Everett-Church, lawyer for the Coalition Against Unsolicited Commercial E-mail.
The Act allows ISPs and state attorneys general to sue spammers, but not individual consumers, and a do-not-spam list would have given consumers one way to fight back, Everett-Church said.
The difference between the national do-not-call list and a national do-not-spam list is that most telemarketers are legitimate businesses that are easy to find, while many spammers advertise fraudulent products and hide their identities through false header information, open relays and other means available on the internet, Muris said.
In the meantime, e-mail users trying to limit their exposure to spam should use spam filters and keep their e-mail addresses off public websites and chat rooms, he said.
As part of the FTC's spam-fighting plan required by the Can-spam Act, the FTC plans to host a workshop on e-mail authentication later this year.
Grant Gross writes for IDG News Service
Read more on IT legislation and regulation