Visual Studio 2005 focuses on mobile devices
Microsoft with Visual Studio 2005 is pledging to provide mobile application developers with the same facilities as desktop...
Microsoft with Visual Studio 2005 has pledged to provide mobile application developers with the same facilities as desktop developers.
Due to ship next year, Visual Studio 2005 will support native Active Template Library (ATL) to ease development of C++ applications for devices, said Jonathan Wells, product manager for Microsoft .net Compact Framework.

Download this free guide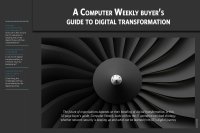 Computer Weekly's buyer's guide to digital transformation
Download this 14 page buyer's guide to discover how the IT operation can lead strategy, whether network security is keeping up and what can be learned from GE's digital journey.
Microsoft Foundation Classes (MFC), will also be extended to mobile development. Embedded Visual C, for building component object model (Com) objects, will be included as well and cease to be its own product, although existing versions still will be supported. These Com objects can be extended to devices.
"We're bringing all of our tools in the 2005 timeframe into Visual Studio, all in one package," Wells said.
Developers in Visual Studio 2005 also will get easier access to POOM (Pocket Outlook Object Model), said Irwin Rodrigues, lead product manager in the Microsoft Mobile Devices Division. POOM enables access to Outlook facilities such as mail contacts.
Visual Studio will also feature wizard technology making it easier to replicate between the upcoming SQL Server 2005 database and the mobile version of the database. The mobile database, called SQL Server CE, will be renamed SQL Server 2005 Mobile Edition.
"We're going to support a future version of the Windows Mobile smart phone, and on top of that we're going to support TabletPC," said Kevin Collins, senior program manager for SQL Server CE. This provides for the same data store and behaviour across different applications.
Visual Studio 2005 also makes it easier to synchronise data between databases such as Oracle and IBM DB2 and the mobile version of SQL Server, through data transformation services tools.
Paul Krill writes for Infoworld