Gateway upgrades DVD wireless player
Gateway has upgraded its wireless DVD player, taking another step in its attempt to converge the consumer electronics and PC...
Gateway has upgraded its wireless DVD player, taking another step in its attempt to converge the consumer electronics and PC markets.
The ADC-320 Wireless Connected DVD player supports more multimedia formats and better networking technology, said John Schindler, director of connectivity and home entertainment at Gateway.

Download this free guide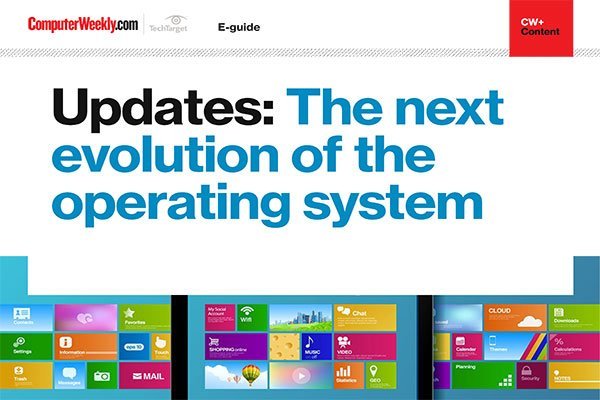 Software Updates: Our latest e-guide is available for your device. Download now?
See how operating systems are evolving with the help of continuous updates and learn about how the Spectre and Meltdown microprocessor flaws have led to improved, more secure processors being released and how Microsoft is evolving its Windows desktop operating system.
By submitting your personal information, you agree that TechTarget and its partners may contact you regarding relevant content, products and special offers.
You also agree that your personal information may be transferred and processed in the United States, and that you have read and agree to the Terms of Use and the Privacy Policy.
Using 802.11g technology, the ADC-320 Wireless Connected DVD player wirelessly receives and displays streamed digital content - photos, music and video - stored on a PC at a speed of up to 54Mbps, Schindler said. Under ideal conditions, the DVD player can pull content from a PC up to 100m away, he said.
"Customers today have most of their digital content stored on a PC that they want to get into a living room. That's why we launched the Wireless Connected DVD player," he said.
The ADC-320 can transfer files five times faster than the ADC-220, which was launched last July and had integrated 802.11b Wi-Fi technology. The increase in speed allows the player to stream higher-bandwidth movies.
The DVD player can receive digital content from Windows and Windows XP Media Center Edition 2004 PCs. It also allows content to be streamed to PCs, where it can be recorded via Media Center's Personal Video Recorder (PVR) feature. The recorded content can then be streamed to other ADC-320s on a home network, Schindler said.
The ADC-320 links to a home's existing wireless network using DHCP (Dynamic Host Configuration Protocol). It can use peer-to-peer networking to connect to home PCs with wireless access points. If a home network has WEP (Wired Equivalent Privacy) or MAC (Media Access Control) addressing security features turned on, the DVD player can be configured to connect to such networks.
The player allows streaming of MP3 and Windows Media Audio content, and MPEG-1, MPEG-2 and MPEG-4, Microsoft PVR and AVI (Audio-Video Interleaved) video files. For secure transfer of multimedia content, the DVD player supports 64-bit and 128-bit WEP encryption and WPA (Wi-Fi Protected Access) encryption.
The $199 ADC-320 Wireless Connected DVD player is available immediately. Firmware upgrades for the DVD player will be available from Gateway's website. Owners of Gateway's ADC-220 can upgrade with a 802.11g DVD card that costs $50 and is installed on the back of the DVD player.
The ADC-320 plugs into Gateway's KAS-303 home theatre system, including a digital receiver, five speakers and a subwoofer, to create a digital media centre that can play media streamed from a PC. The total package costs $999.
Agam Shah writes for IDG News Service