Europe investigates French help to Bull
The future of French computer company Group Bull will depend on an assessment by the European Commission of the French state's...
The future of French computer company Group Bull will depend on an assessment by the European Commission of the French state's involvement in Bull's latest effort to avert bankruptcy.

Download this free guide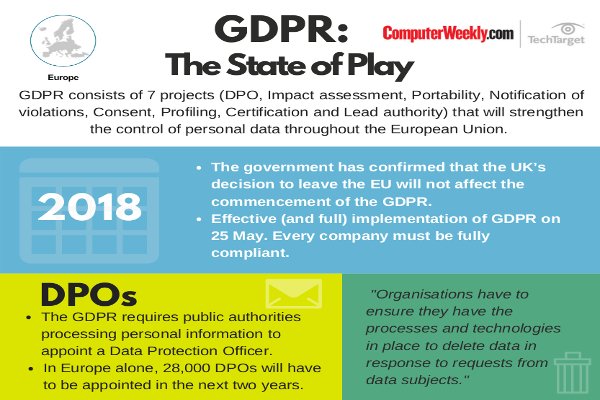 Infographic: GDPR - The State of Play
Get the latest information on how GDPR is going to affect your business and how to avoid any unwanted fines with this simple infographic.
By submitting your personal information, you agree that TechTarget and its partners may contact you regarding relevant content, products and special offers.
You also agree that your personal information may be transferred and processed in the United States, and that you have read and agree to the Terms of Use and the Privacy Policy.
The European Commission is likely to open a state aid investigation into the French government's plans to cancel the €450m debt owed by the struggling computer maker Bull.
France notified the commission of its plan last month, which aims to pay off Bull's loan plus interest accrued since last June, when the debt was supposed to have been repaid to France.
The total cost to France to write off Bull's debts is about €520m, said commission spokesman Tilman Lueder.
The French government's latest attempt to keep Bull afloat is part of a plan agreed to by some of the company's main shareholders, customers and employees last November.
State-owned France Télécom and computer company NEC, both owners of 16.9% of Bull's shares, will each contribute €7.5m; German insurer and Bull client Debeka will contribute €3m; French insurer Axa will invest €9m; and a group of 350 employees will raise at least €6m toward the recapitalisation of Bull, Lueder said.
Asking for the commission's approval of France's role in Bull's latest rescue bid is "an unusual request", Lueder said, because the French state is asking for permission to restructure a loan that Bull should never have received in the first place.
Last November, the commission decided to take France to court for failing to force Bull to pay back the €450m bridging loan it received from France in 2002.
That loan was illegal because under the European Union's state aid rules, a company cannot benefit from state aids more than once in a decade. Bull received €1.3bn in state aid in 1994.
The latest attempt by France to assist Bull must wait until January to avoid breaching the "once-a-decade" rule, Lueder said.
Bull is confident that the planned recapitalisation will receive approval from regulators, said spokeswoman Marie-Claude Bessis.
"The French state is trying to find a means to satisfy the commission and, at the same time, satisfy Bull's need to recapitalise," she said.
Paul Meller writes for IDG News Service
Read more on IT legislation and regulation