Enterasys focuses on security
Enterasys Networks has reintroduced policy-based networking, originally introduced by Enterasys' predecessor Cabletron in the...
Enterasys Networks has reintroduced policy-based networking, originally introduced by Enterasys' predecessor Cabletron in the mid-1990s with its SecureFast products.

Download this free guide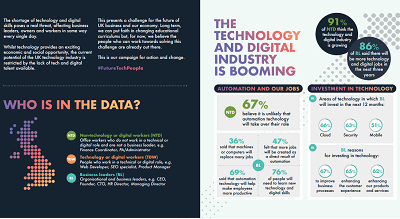 Infographic: Future-proofing UK technology
The current potential of the UK technology industry is restricted by the lack of tech and digital talent available. Read through this challenge for the future of UK business and our economy.
Policy-based networking refers to a mix of network management tools and switch smarts, designed to assign priority to and monitor network traffic.
With networks constantly under threat from worms, viruses and people accessing sensitive information both from outside the company walls and from within the company, networks need to know how to operate under duress, said John Roese, Enterasys' chief technology officer. Networks that are not an active part of a company's security system will no longer suffice.
"The next network you implement has to think not just about the content of the packet, but the context of the packet," Roese said. "Who sent it? Where did it come from? Where is it going? When did it get sent? How many packets preceded it? How many followed it? What conversation is it a part of?"
During the late 1990s, the network industry thought policy-based networking would be required to support real-time traffic such as voice or video. Real-time network traffic, however, has yet to explode and on networks that do run real-time traffic, it is often easier to throw more bandwidth at any congestion problems than it is to manage the network traffic beyond the assigning of priority queues.
Enterasys now believes it has found a new need for policy-based networking - security. The company said its combination of network management tools and security-centric Application Specific Integrated Circuits (ASICs) running proprietary algorithms gives it a leg up on competitors.
What Enterasys means by security is more than just setting up user profiles and assigning permissions in a Lightweight Directory Access Protocol (LDAP) database.
As part of the security strategy, Enterasys unveiled a new product called Dynamic Intrusion Response, which is designed to allow customers to implement an automated system for intrusion detection, network management and intrusion response.
Dynamic Intrusion Detection uses a combination of Enterasys' Dragon intrusion defense system, NetSight Atlas network management system and a policy-based network infrastructure.
Enterasys also announced a partnership with network services provider Lucent Worldwide Services, which is designed to deliver Enterasys Secure Networks to enterprise customers and a global awareness campaign centered around Secure Networks.
Michael Martin writes for ITWorldCanada.com