Comcast puts merger pressure on Disney
Cable telecommunications company Comcast is to put in a higher, formal bid for Walt Disney after Disney rejected its initial...
Cable telecommunications company Comcast is to put in a higher, formal bid for Walt Disney after Disney rejected its initial $66bn (£35bn) offer.

Download this free guide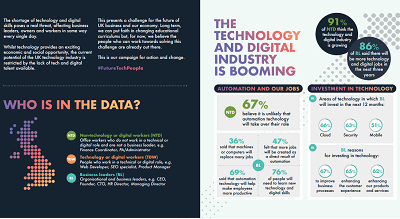 Infographic: How to future-proof UK technology
There is no doubt that the technology industry is booming right now, bringing with it exciting social and economic opportunities. However, there is a real fear that the UK industry may be stunted due to the lack of talent available. This e-guide helps to break down the future fears and expectations of dozens of business leaders and tech workers.
The merger terms offered Disney shareholders control of 42% of the combined stock.
Comcast chief executive officer Brian Roberts had suggested to Disney chairman and CEO Michael Eisner that Disney could benefit by developing new ways to deliver its content to Comcast's subscriber base of 21 million cable TV subscribers and five million high-speed internet access subscribers, such as video on demand and broadband video streaming.
"We have a wonderful opportunity to create a company that combines distribution and content in a way that is far stronger and more valuable than either Disney or Comcast can be standing alone," Roberts told Eisner.
Comcast estimated the combined company would have a market capitalisation of $122bn and a hand in everything, from high-speed internet access to the ABC broadcast network and the Disney amusement parks.
It was confident that the regulatory approvals necessary for a merger could be obtained in a timely fashion.
The proposed deal recalls an earlier merger between America Online with Time Warner, said Forrester research director Chris Charron.
"This is another example of a company that owns the pipes trying to use that as leverage to move into another piece of the value chain," he said.
Comcast is looking to the merger to give it quick access to content, especially for its new video on demand cable service. Many media companies had been wary of licensing content to the service, because of the threat it poses to traditional content syndication arrangements, a rich source of revenue over the years.
Buying Disney would give Comcast a rich source of programming for video on demand and establish Comcast as the top company in the rapidly converging markets for delivering broadband internet and video entertainment to households.
However, if successful, the merger could raise troubling questions about media consolidation.
"For those who oppose the current media ownership laws, this kind of merger is as concerning as a combination of media companies. You have the largest cable company and one of the largest media companies merging," said Charron.
Peter Sayer and Paul Roberts write for IDG News Service