BEA readies Java web services technology
BEA Systems will have a reference implementation of Java technology intended to simplify deployment of web services, based on the...
BEA Systems will have a reference implementation of Java technology intended to simplify deployment of web services, based on the company's own WebLogic Workshop IDE, by early 2004.

Download this free guide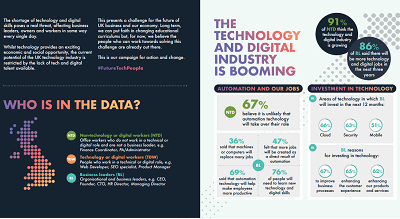 Infographic: How to future-proof UK technology
There is no doubt that the technology industry is booming right now, bringing with it exciting social and economic opportunities. However, there is a real fear that the UK industry may be stunted due to the lack of talent available. This e-guide helps to break down the future fears and expectations of dozens of business leaders and tech workers.
Java Specification Request (JSR) 181 enables cross-container deployment of Java Web Services consistent with the Workshop framework. BEA defines Java Web Services as a web services file extension used in Workshop.
The proposal, entitled "Web Services Metadata for the Java Platform", was launched by BEA in 2002 and submitted to the Java Community Process (JCP) for standardising new Java technologies. JSR 181 defines an annotated Java syntax for programming web services.
The reference implementation will be publicly downloadable for use as a blueprint in developing like frameworks to Workshop for web services deployment, according to BEA.
Through JSR 181, a Java web services file created in Workshop could run on other suppliers' J2EE-compliant application servers more easily, said Dave Cotter, BEA director of developer product marketing.
Web services files developed in Workshop can be deployed on other application servers besides BEA's now, but developers lose productivity gains available in Workshop, Cotter claimed.
However, Jason Bloomberg, senior analyst at ZapThink, was unimpressed with JSR 181.
"All in all, JSR is not really all that significant," he said. "The main point to JSR 181 is to provide for greater simplicity for developers of web services on a Java platform. The key to understanding this JSR is that it consists of metadata for describing web services and is proposed as an instance of the JSR 175 metadata facility for Java.
"In other words, the Java source code can be commented on in a programmatic, rigorous way, providing a consistent way of explaining the Java code to developers."
But Cotter said the company has received positive responses.
"The feedback that we've gotten from the industry and customers is that 181 is significant in how it makes Java or Java programming much more approachable," he said.
According to the JCP website, JSR 181 has the support of BEA, Borland Software, Sun Microsystems and Iona Technologies.
Paul Krill writes for InfoWorld
Read more on IT operations management and IT support