Games on Nokia's N-Gage prove easy to hack
Hackers have cracked the copy protection code of games developed for Nokia's N-Gage mobile game console.
Hackers have cracked the copy protection code of games developed for Nokia's N-Gage mobile game console.
"We have discovered that some of the N-Gage games are available for downloading on a number of websites," said Damian Stathonikos, a Nokia spokesman.

Download this free guide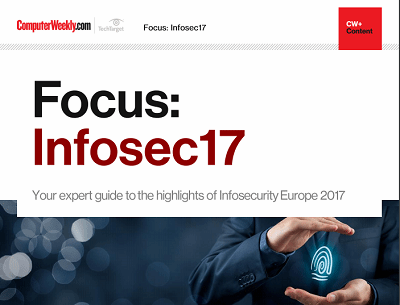 From forensic cyber to encryption: InfoSec17
Security technologist Bruce Schneier's insights and warnings around the regulation of IoT security and forensic cyber psychologist Mary Aiken's comments around the tensions between encryption and state security were the top highlights of the keynote presentations at Infosecurity Europe 2017 in London.
By submitting your personal information, you agree that TechTarget and its partners may contact you regarding relevant content, products and special offers.
You also agree that your personal information may be transferred and processed in the United States, and that you have read and agree to the Terms of Use and the Privacy Policy.
"We will work closely with ISPs and authorities, and continue to develop our own copy protection mechanisms to curb this action."
Earlier this week, gaming website www.spong.com revealed successful hacks of N-Gage games, saying the games could be "cracked like an egg".
Club-Siemens.net, an unofficial website for users of Siemens mobile phones run by the Norwegians Silje Brevik and Jorgen Molna, posted a message confirming that N-Gage games can be downloaded and installed on the German company's SX1 mobile phone. The website posted several screen shots of N-Gage games installed on the Siemens SX1 phone.
The message said that the N-Gage games run "very well on the SX1". Users of the Siemens phone only need to transfer the game file to the MMC (Multimedia Card) and use a specific application to install the game. "The sound is nice" and the "graphics are perfect", it said.
The program to install the game is called BlizzardN-Gage.sis, according to one gamer who requested anonymity. He said he was surprised to see how easily N-Gage games could be cracked and also by the fact that the games run on other Nokia phones, such as the 3650 and 6600 models.
"I was under the impression that N-Gage was completely different hardware, but this doesn't appear to be the case."
Nokia was not surprised at the news. "We thought this might happen," Stathonikos said. "This behavior is, unfortunately, a relatively common occurrence in the gaming industry."
Nokia launched N-Gage, a combined mobile phone and game console, in October. The wireless device allows users to play games against other people using a Bluetooth or a GPRS connection.
John Blau writes for IDG News Service
Read more on IT risk management