Microsoft sets 100 million target for smart phones and PDAs
Microsoft has set a target to sell 100 million personal digital assistants and smart phones running Windows by 2007.
Microsoft has set a target to sell 100 million personal digital assistants and smart phones running Windows by 2007.
The goal was set by Microsoft chief executive officer Steve Ballmer for the company's Windows Mobile unit, and shows that Microsoft is serious about this market, said Douglas Dedo, marketing manager for Windows Mobile at Microsoft.

Download this free guide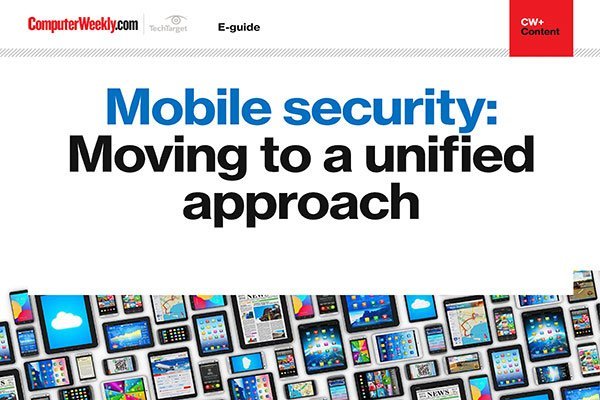 3 expert insights into how mobile security is evolving for business
Download this e-guide to read expert insights into how the current trends in mobile security strategy are showing a move from mobile device management, to enterprise mobile management and unified endpoint management - indicating an evolution towards a unified approach to mobile security.
By submitting your personal information, you agree that TechTarget and its partners may contact you regarding relevant content, products and special offers.
You also agree that your personal information may be transferred and processed in the United States, and that you have read and agree to the Terms of Use and the Privacy Policy.
A large percentage of the Windows Mobile device shipments will be smart phones, not PDAs, Dedo said.
Smart phones are devices that look like a phone, but offer extended PDA-like capabilities such as e-mail access and a calendar.
Microsoft launched its first smart phone about a year ago in Europe. AT&T Wireless Services last month began selling Motorola's MPx200, the first smart phone based on Windows Mobile software to be sold in the US.
Thinking in big numbers is nothing new for Microsoft, but the 100 million target for Windows Mobile devices in 2007 seems bullish when looking at the market and forecasts. The goal "may be a bit aggressive", said Todd Kort, a principal analyst at market researcher Gartner.
Of the over 431 million mobile terminals sold last year, only three million were smart phones, according to data from Gartner. These numbers include products that compete with Microsoft. Mobile terminals include mobile phones, smart phones and wireless-enabled PDAs.
By 2007, however, Gartner expects about 525 million mobile terminals to be sold, 84 million of which will be smart phones.
Last year, 12.1 million PDAs were sold. Gartner expects virtually no growth for the market overall until 2004. However, Microsoft has been closing in on rival PalmSource.
Windows-based PDAs in the first half of 2003 grew 32% over the previous year to 1.95 million, according to Gartner.
Joris Evers writes for IDG News Service

Read more on Mobile hardware