US adopts biometrics for border control
The US Department of Homeland Security has jump-started an aggressive biometric deployment programme to help plug gaps in border...
The US Department of Homeland Security has jump-started an aggressive biometric deployment programme to help plug gaps in border security.
Yesterday the DHS announced a $3.5m deal with Information Spectrum (ISI), a wholly owned subsidiary of Anteon International, for 1,000 optical-stripe read/write drives and biometric verification systems for the US Visitor and Immigration Status Indication Technology (Visit).

Download this free guide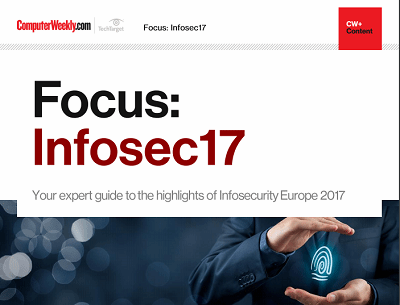 From forensic cyber to encryption: InfoSec17
Security technologist Bruce Schneier's insights and warnings around the regulation of IoT security and forensic cyber psychologist Mary Aiken's comments around the tensions between encryption and state security were the top highlights of the keynote presentations at Infosecurity Europe 2017 in London.
By submitting your personal information, you agree that TechTarget and its partners may contact you regarding relevant content, products and special offers.
You also agree that your personal information may be transferred and processed in the United States, and that you have read and agree to the Terms of Use and the Privacy Policy.
Earlier this month the department signed what has been described as one of the largest contracts in history for biometric fingerprint-scanning technologies with Identix.
"There are a number of technologies out there, and I think DHS is still looking for the right mix," Mark Heilman, executive vice president of corporate development at Anteon. "I think there will be some choices made during the next year or so that will shake out the industry."
The ISI optical drives and biometric verification software will be deployed to ports of entry around the US for operation on existing DHS computer systems. The software will enable border-crossing agents to read the encoded data on any of the more than 13 million permanent-resident and border-crossing cards issued by the US government, authenticate the biometric data stored on the cards and alert DHS inspectors to possible counterfeit cards.
Meanwhile, through a five-year blanket purchase agreement that could be worth up to $27m, the DHS will begin deploying Identix's TouchPrint 3000 live-scan fingerprint booking stations and desktop systems to support the Citizenship and Immigration Services (CIS) programme as well as other departments within DHS.
The CIS programme will use the Identix fingerprint-scanning systems to capture digitally and electronically submit fingerprint images from immigration applicants to the FBI.
The fingerprints will then be used to conduct criminal background checks on the applicants before the CIS decides whether to grant immigration benefits.
Frances Zelazny, a spokeswoman for Identix, said the Immigration and Naturalization Service has been using Identix live-scan systems for at least five years to conduct criminal background checks on people who apply for immigrant and asylum status in the US.
Zelazny added that the DHS today has already issued its first order under the contract totalling more than $2m and intends to extend the contract to its overseas screening operations.
Dan Verton writes for Computerworld
Read more on IT risk management