Four US men plead guilty to software piracy
Four men in the US have pleaded guilty to conspiracy to commit criminal copyright infringement.
Four men in the US have pleaded guilty to conspiracy to commit criminal copyright infringement.
The criminal prosecutions are the first cases to be brought as a result of a 15-month, software piracy investigation known as Operation Safehaven, which has resulted in the seizure of thousands of pirated CDs and DVDs.

Download this free guide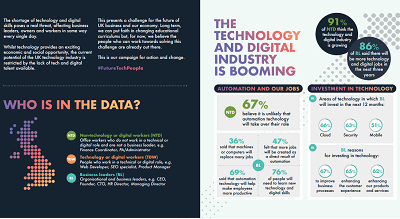 Infographic: How to future-proof UK technology
There is no doubt that the technology industry is booming right now, bringing with it exciting social and economic opportunities. However, there is a real fear that the UK industry may be stunted due to the lack of talent available. This e-guide helps to break down the future fears and expectations of dozens of business leaders and tech workers.
Dozens of computers and servers, including the largest "warez" site in the US to date were also seized.
Three of the men -Travis Myers, Terry Katz, Walter Kapechuk - were all participants in the "warez scene", an underground online community consisting of individuals and organised groups who use the internet for large-scale, illegal distribution of copyrighted software.
In the warez scene, certain participants, known as "suppliers" are able to access copyrighted software, video games, DVD movies and MP3 music files, often before those titles are available to the general public.
Other participants, known as "crackers", then use their technical skills to circumvent or crack the digital copyright protections, while the "couriers", distribute the pirated software to various file servers on the internet for others to access, reproduce and further distribute.
Myers admitted that he was a member of several leading warez groups and he acted as a distributor or courier for those groups. He operated and maintained several computers used in the warez scene, including a file server that was used to illegally collect, store and distribute tens of thousands of pirated software titles, games, movies and music files.
Kapechuk admitted that he was responsible for operating and maintaining a number of warez servers located at the State University of New York at Albany which were used to collect, store and distribute thousands of warez titles.
The fourth man, Warren Willsey. admitted that he assisted in the maintenance of the SUNY-Albany warez sites.
Myers, Katz and Kapechuk each face up to five years in prison, three years' supervised release and a fine of up to $250,000.
Willsey faces up to one year in prison, one year's supervised release and a fine of up to $100,000.
Linda Rosencrance writes for Computerworld
Read more on IT legislation and regulation