Norton AntiVirus protects against spyware and software piracy
Protecting users from spyware, key-logging programs and pirated software are the two latest features of Symantec's Norton...
Protecting users from spyware, key-logging programs and pirated software are the two latest features of Symantec's Norton AntiVirus 2004 software released this week.

Download this free guide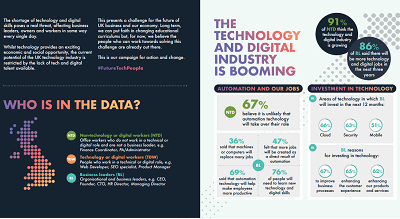 Infographic: How to future-proof UK technology
There is no doubt that the technology industry is booming right now, bringing with it exciting social and economic opportunities. However, there is a real fear that the UK industry may be stunted due to the lack of talent available. This e-guide helps to break down the future fears and expectations of dozens of business leaders and tech workers.
Spyware are programs used by third-parties to gather information about a user without his or her knowledge and is sold to groups such as advertisers.
Key-logging programs are also installed unwittingly on machines and track user keystrokes to determine passwords. Spyware and key-logging programs are commonly transmitted through viruses, worms or Trojan horses.
For users of Microsoft's Windows 2000 and XP, Norton AntiVirus 2004 will provide protection from downloading infected compressed files and from sharing them with other users.
The offering will also include a product activation feature to prevent the piracy of software. Product activation creates a connection between the product and the machine it is installed on to ensure it cannot be copied to other machines without entering a registration number or licensing number.
Norton AntiVirus 2004 will be available in early September. As well as a Standard version, Symantec will release a Professional version of Norton AntiVirus 2004 that will include data recovery tools to help users restore damaged files and a data-cleaning tool that digitally shreds deliberately deleted files.
The Professional Edition will also include licensing for two computers. It will be available for purchase in five-user and 10-user licence packs for small businesses. The five-user Small Office pack will cost $199.95 (£128), while the 10-user pack will cost $399.95 (£255).
Norton AntiVirus 2004 Standard Edition will retail for $49.95 (£32) and the Professional Edition for $69.95 (£45).
Existing users of Norton AntiVirus products and competing antivirus software will be able to upgrade to the Standard Edition of Norton AntiVirus 2004 for $29.95 (£19), and $39.95 (£26) for the Professional Edition.
Rebecca Reid writes for ITWorldCanada.com