Time Warner and Comcast to trial Microsoft TV software
Microsoft chief executive officer Steve Ballmer has announced that US cable television company Time Warner Cable and Comcast plan...
Microsoft chief executive officer Steve Ballmer has announced that US cable television company Time Warner Cable and Comcast plan to conduct field trials of the company's latest family of TV set-top box software.

Download this free guide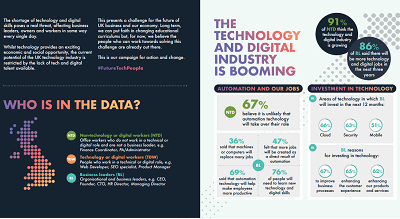 Infographic: Future-proofing UK technology
The current potential of the UK technology industry is restricted by the lack of tech and digital talent available. Read through this challenge for the future of UK business and our economy.
The vote of support is important for Microsoft because its set-top box software has not yet been widely deployed.
Even though it is on its second-generation of TV software and has spent more than $10bn (£6.2bn) buying stakes in companies to spur investment and growth in the cable TV industry, to date only a handful of operators - and no large US cable companies - have rolled out Microsoft TV software.
Time Warner and Comcast are the first large US companies to commit to testing the software in the field.
Time Warner will test Microsoft's TV Interactive Program Guide (IPG) software.
In June, Comcast announced that it would test Microsoft's latest TV software package, the TV Foundation Edition. Comcast added that it would also be testing the IPG product, and that the trial would be taking place in the Seattle area later this year.
The Interactive Program Guide (IPG), released last year, is designed to make it easy for TV watchers to find shows and customise their viewing.
The TV Foundation Edition offers a broader range of services, designed to allow operators to create channels that let consumers easily find and make purchases. It also provides authoring tools designed to let operators broadcast a variety of services and applications including games, news and weather information services.
IPG and Foundation represent Microsoft's latest attempt at getting its technology into the millions of set-top boxes that sit on top of cable-connected TVs around the world.
Its first foray into TV software, aimed at more advanced set-top boxes, failed to gain many cable company customers. With the onset of recession two years ago, cable operators delayed plans to roll out the type of advanced set-top boxes for which Microsoft software was built, industry analysts have noted.
With the launch of IPG last year and Foundation last month, however, Microsoft is aiming at the generation of "thin" set-top boxes already deployed.
The Comcast and Time Warner trials do not mean, however, that Microsoft has finally found success in the TV market. A Comcast spokesman stressed that the trials of IPG and Foundation were "limited" and cautioned that the company has not made a commitment to deploying the software commercially.
Marc Ferranti writes for IDG News Service