European IT spend will feel the squeeze for another five years
The European IT market will fail to mirror the "return to growth" in the US and remain in the doldrums through 2004 as IT...

Download this free guide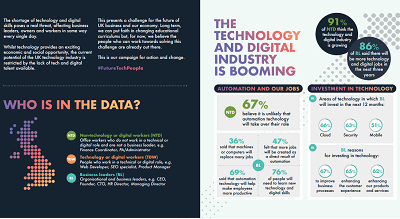 Infographic: How to future-proof UK technology
There is no doubt that the technology industry is booming right now, bringing with it exciting social and economic opportunities. However, there is a real fear that the UK industry may be stunted due to the lack of talent available. This e-guide helps to break down the future fears and expectations of dozens of business leaders and tech workers.

The European IT market will fail to mirror the "return to growth" in the US and remain in the doldrums through 2004 as IT departments remain focused on cost cutting and maintenance, according to new research.

The results of the latest Goldman Sachs IT Spending Survey, based on interviews with 300 IT directors from major European companies and 100 US IT chiefs, suggests that IT budgets in Europe will decline by an average of 3% in 2003 and a further 2% in 2004.

Nearly 75% of European IT directors do not expect to see their IT budgets grow by more than 5% for at least five years.

The decline contrasts with "increased optimism" and a projected growth in IT budgets of 3.5% next year among IT directors in the US. Twenty five per cent of those polled predicted IT spending growth of 10% or more.

More than 50% of the European IT professionals questioned said they had deferred IT projects up to four times this year due to budgetary limits. Of those who had postponed projects during 2003, 40% said they would postpone them until at least 2004, with a further 36% uncertain when the projects would be realised.

David Roberts, chief executive of the Corporate IT Forum, said Goldman Sachs' European findings were in-line with the belt-tightening experiences of many large IT users in the UK. "I would certainly expect budgets to be flat because if there is any way an organisation can make budgets decline, it will do that," he said.

But the disparity between the US and European figures could be the result of "false optimism" following the war in Iraq and analysts believe this "Baghdad bounce" could be short-lived.

Anthony Miller research director at analyst firm Ovum, said he would be surprised if the US market recovered as quickly as Goldman Sachs suggests. "I think they are either being far too positive or just plain daft. There is nothing new on the horizon, whether a technology or an event. It is a mystery to me."

Jamie Snowdon, an analyst at IDC, said the difference between the US and European figures could be down to differences in attitude. "They are quicker to respond to changes in market conditions and their business outlook is more optimistic," he said. "We are a bit more cautious in Europe and the UK is somewhere in between."

Goldman Sachs said it sees potential for some upturn in investment in Europe in 2004. Key areas will be security, disaster recovery and outsourcing.
Read more on Managing IT and business issues