Microsoft takes on Amazon over image sales
Corbis, the giant photo library owned by Microsoft, is suing online retailer Amazon concerning allegations of copyright...
Corbis, the giant photo library owned by Microsoft, is suing online retailer Amazon concerning allegations of copyright infringement.
According to a lawsuit filed earlier this week, Amazon displayed infringing images, to which Corbis holds the copyright, on both its website and that of its Internet Movie Database subsidiary, imdb.com.

Download this free guide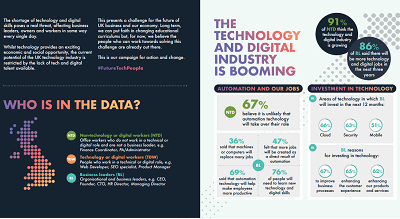 Infographic: How to future-proof UK technology
There is no doubt that the technology industry is booming right now, bringing with it exciting social and economic opportunities. However, there is a real fear that the UK industry may be stunted due to the lack of talent available. This e-guide helps to break down the future fears and expectations of dozens of business leaders and tech workers.
Twenty-five suppliers offering posters containing Corbis copyright images for sale through parts of Amazon's website have also been included in the action.
Corbis is seeking damages of up to $150,000 for each infringing image. If Corbis wins its case against Amazon, it will put pressure on online department store operators to think carefully about the companies they invite to do business through their site.
"We want them to be aware of their responsibility with the merchants in their store," said Corbis legal officer Dave Green, especially if they are going to describe them as "trusted partners", as Amazon describes some companies on its site, he added.
An Amazon spokesman dismissed the suit as "without merit" and said the company was not liable for the suppliers' activities.
"They offer their merchandise on the Amazon website but we don't take possession or own or ship any of that inventory and, therefore, we are protected from infringement liability by the Digital Millennium Copyright Act," said a spokesman.
Amazon has already removed the disputed images and items from its website in response to the lawsuit - but would have done this in response to a simple e-mail from Corbis, Curry said. "We care enough about intellectual property enforcement that we would act without a lawsuit."
Corbis wants to move the load for policing ownership of images to the websites using them. "One of the steps we can take is to have them adopt technologies," Green said.
In a recent out-of-court settlement with online consumer photo printing service Ofoto, the company agreed to adopt digital watermarking technology from Digimarc to pick out commercial images from those it is asked to print.
"That will help them spot images containing a particular Corbis watermark, so there is a degree of technology that can be implemented," Green said.
Peter Sayer writes for IDG News Service
Read more on IT legislation and regulation