Microsoft's Bill Gates attacks spam 'plague'
Spam is a plague that threatens to undo much of the good that e-mail has achieved, Microsoft chairman and chief software...
Spam is a plague that threatens to undo much of the good that e-mail has achieved, Microsoft chairman and chief software architect Bill Gates said yesterday.

Download this free guide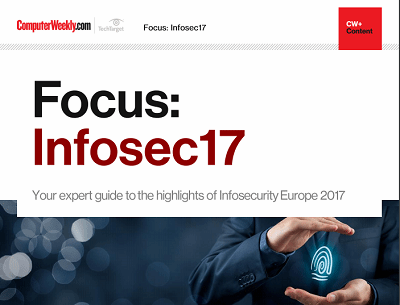 From forensic cyber to encryption: InfoSec17
Security technologist Bruce Schneier's insights and warnings around the regulation of IoT security and forensic cyber psychologist Mary Aiken's comments around the tensions between encryption and state security were the top highlights of the keynote presentations at Infosecurity Europe 2017 in London.
By submitting your personal information, you agree that TechTarget and its partners may contact you regarding relevant content, products and special offers.
You also agree that your personal information may be transferred and processed in the United States, and that you have read and agree to the Terms of Use and the Privacy Policy.
Gates aired his views in an e-mail sent to subscribers of Microsoft's Executive E-Mail list, and explained some of the work Microsoft is doing to combat the influx of spam. He noted that there is "no easy fix".
Microsoft is attacking spam on several fronts, most recently filing 15 lawsuits in the US and the UK against companies and individuals allegedly responsible for sending billions of spam messages.
The company is also working with other industry players and is lobbying for spam regulation. Furthermore, a recently created Anti-Spam Technology and Strategy Group at Microsoft is working on advanced filtering technologies which will block spam before it reaches a user's inbox.
Smart filters are one technology meant to help stem the tide of spam. These filters learn what a user regards as spam and become more effective over time. This type of protection is harder for spammers to circumvent than, for example, blocking of e-mail based on the subject line or the address it was sent from.
New filtering technologies are already part of some Microsoft products, including MSN 8 and Hotmail. Gates promised that Exchange Server 2003 and Outlook 2003, due out later this year, will have better spam guards.
Part of Microsoft's antispam effort is devoted to finding a way for "legitimate commercial e-mail" to find its way to the consumer. Microsoft proposes establishing independent e-mail trust authorities to establish and maintain commercial e-mail guidelines and certify senders who follow those guidelines. Those who do not follow the guidelines would have to add an "advertisement label to the subject line of the message, Gates wrote. He did not detail how those policies would be enforced.
Ryan Hamlin, general manager of Microsoft's Antispam Technology and Strategy Group, late last month said all the efforts to fry spam should lead to spam being contained within two years. However, before that time, spam will reach unprecedented proportions, he warned.
Joris Evers writes for IDG News Service
Read more on IT risk management