Judge upholds law requiring ISPs to name downloaders
A US federal judge has again sided with the recording industry in its efforts to subpoena the name of a music downloader.
A US federal judge has again sided with the recording industry in its efforts to subpoena the name of a music downloader.
He is upholding a part of the Digital Millennium Copyright Act (DMCA) that requires Internet service providers (ISPs) to turn over names of alleged copyright infringers. Critics said the law provides a cheap and easy way for music companies, or anyone else, to find out the names of anonymous internet users.

Download this free guide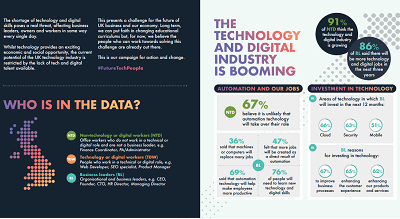 Infographic: How to future-proof UK technology
There is no doubt that the technology industry is booming right now, bringing with it exciting social and economic opportunities. However, there is a real fear that the UK industry may be stunted due to the lack of talent available. This e-guide helps to break down the future fears and expectations of dozens of business leaders and tech workers.
Judge John Bates of the US District Court for the District of Columbia wrote in an order yesterday (24 April) that a part of the law, which requires ISPs to turn over names of alleged copyright infringers when a copyright holder requests a subpoena, does not violate the US constitution.
The Recording Industry Association of America (RIAA) is fighting in court with Verizon Internet Services over the names of two customers who allegedly downloaded hundreds of songs through peer-to-peer services. Bates ruled against Verizon in the first case on 21 January.
Verizon, along with 28 consumer and privacy groups and 18 other ISPs and ISP organisations, argued against the subpoenas, which are issued by a court clerk, not a judge, when a copyright holder has a reasonable suspicion of a violation.
Verizon argued that the DMCA subpoenas only apply when the files are hosted on the ISP's network, not on a customer's computer.
It also argued that the clerk-issued subpoenas open up a potential for abuse, with anyone wanting to know the name of an anonymous internet user, including paedophiles and stalkers, able to claim a copyright violation and get a subpoena.
"This ruling means that the RIAA, or anyone else claiming to represent a copyright owner, can demand that your ISP turn over your identity to them without any notice to you or the opportunity to prove that you didn't do anything wrong," said Cindy Cohn, legal director of the Electronic Frontier Foundation.
But Bates, in a 58-page ruling, said a clerk-issued subpoena does not violate the US constitution's prohibition on using court powers without a pending case or controversy. He said the clerk-ordered subpoenas are administrative in nature, falling outside the constitution's restrictions on a court's power.
The judge also rejected Verizon's protest on free speech grounds, saying requesting the name of a music downloader does not create a censorship of speech.
Bates noted that Verizon's terms of service forbid copyright infringement. "In the end, Verizon's customers should have little expectation of privacy (or anonymity) in infringing copyrights," he wrote.

Verizon said it will appeal Bates' decision, and the company is currently fighting a second subpoena from the RIAA.
John Thorne, senior vice-president and deputy general counsel for Verizon, said, "This decision exposes anyone who uses the internet to potential predators, scam artists and crooks, including identity thieves and stalkers. We will continue to use every legal means available to protect our subscribers' privacy."
Read more on IT legislation and regulation