Lloyds TSB & Unisys sign £1.6m security contract
Lloyds TSB has moved to protect its systems from potential attacks by signing a two year £1.6m deal with IT services firm Unisys...
Lloyds TSB has moved to protect its systems from potential attacks by signing a two-year, £1.6m deal with IT services firm Unisys for the provision of an intrusion detection service.
The move, announced on Wednesday (19 February), comes in the week that the head of the UK's National Infrastructure Security Co-ordination Centre (NISCC) told Computer Weekly that companies should review the security of their systems to counter the threat of cyber-attack from Islamic groups.

Download this free guide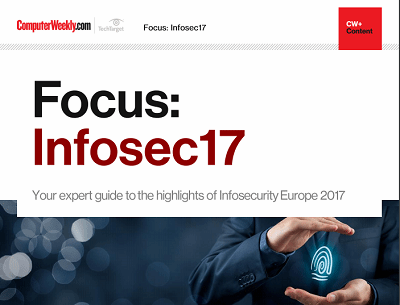 From forensic cyber to encryption: InfoSec17
Security technologist Bruce Schneier's insights and warnings around the regulation of IoT security and forensic cyber psychologist Mary Aiken's comments around the tensions between encryption and state security were the top highlights of the keynote presentations at Infosecurity Europe 2017 in London.
By submitting your personal information, you agree that TechTarget and its partners may contact you regarding relevant content, products and special offers.
You also agree that your personal information may be transferred and processed in the United States, and that you have read and agree to the Terms of Use and the Privacy Policy.
Bob Spencer, head of group IT security and risk at Lloyds TSB, said secure systems are vital in an age of 24-hour banking. "As our customers want to transact 24 hours a day, we need to protect ourselves from any attack that may lead to our services being unavailable," he said. "By securing and monitoring our systems, Unisys also prevents other losses such as financial and reputation."
As part of the agreement, Unisys will provide the resources to monitor the IDS 24 hours a day. The company said its threat intelligence and protection capabilities will ensure that the technology Lloyds TSB uses is up to date, tuned and scanning for the latest threats.
Lloyds TSB turned to Unisys after it struggled to manage and monitor an in-house IDS system effectively.
"We already tried to implement IDS in-house and found that we were unable to assign the resources required to effectively manage and monitor the system," Spencer said.
"There are a number of economies of scale that Unisys offers – including hiring and training skilled personnel, keeping up to date about new vulnerabilities, new hacker tools, new security products and new software releases."
The IDS will be delivered from the Unisys security command centre in the Netherlands, supported by the SCC at Unisys headquarters in the US. The service will be based on software from ISS RealSecure.
Read more on IT risk management