Wi-Fi market estimated to grow 23%
The worldwide wireless Lan (WLAN) market grew tremendously in 2002, fuelled by increasingly cheap and reliable 802.11b...
The worldwide wireless Lan (WLAN) market grew tremendously in 2002, fuelled by increasingly cheap and reliable 802.11b technology, a report by market research firm Stat/MDR claimed.

Download this free guide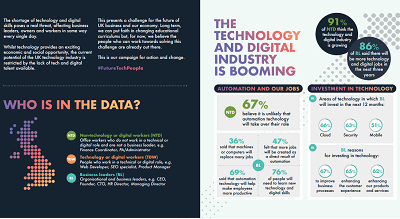 Infographic: How to future-proof UK technology
There is no doubt that the technology industry is booming right now, bringing with it exciting social and economic opportunities. However, there is a real fear that the UK industry may be stunted due to the lack of talent available. This e-guide helps to break down the future fears and expectations of dozens of business leaders and tech workers.
In-Stat/MDR indicated that total market revenues are expected to have increased 23% from $1.8bn (£1.1bn) to $2.2bn (£1.4bn) between 2001 and 2002. While In-Stat/MDR has received numbers from the first, second and third quarters of 2002, data from the fourth quarter are still rolling in so only predictions can be made at this time, said Gemma Paulo, senior analyst, enterprise and residential networking, at In-Stat/MDR.
Shipments of WLAN gear to business are predicted to increase 65% in 2002 to 11.6 million units, and shipments to the home by 160% to 6.8 million units.
The year also saw the trickling in of some pre-standard 802.11g products and an influx of hardware such as 802.11a network interface cards (NIC) and access point (AP) and dual-mode 2.4/5GHz capable NICs and APs.
"We're seeing a lot of pre-standard [802.11]g going in to the homes this year and a lot of dual-band equipment especially for the business because there's this idea that they can use the [802.11]b now and, eventually, upgrade to [802.11]a," Paulo said.
While the high-end WLAN equipment market continued to be dominated by vertical markets, an increasing number of smaller businesses started to invest in lower-end gear.
Driving the small business and home office (Soho) market were retail sales and online purchases of low-end router/AP devices and NICs. In-Stat said that retail outlets and web retailers aggressively provided rebates on their WLAN equipment.
"A certain times in a quarter they [retailers] might have a lot of equipment and might be trying to get rid of it," Paulo said, adding that these deals might have inspired home users to purchase more WLAN equipment, generating more of an interest in the technology.
And in the workplace the number of 802.11b-enabled laptops increased as shown by the increased sales of network interface cards to businesses from 2% in 2001 to 14% in 2002.
For more information visit www.instat.com.