Mixed forecast for 2003 IT spending
IT spending at large companies across North America next year will vary across various industries, with some edging up slightly...

Download this free guide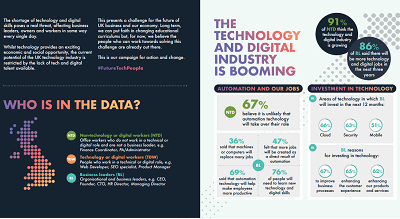 Infographic: How to future-proof UK technology
There is no doubt that the technology industry is booming right now, bringing with it exciting social and economic opportunities. However, there is a real fear that the UK industry may be stunted due to the lack of talent available. This e-guide helps to break down the future fears and expectations of dozens of business leaders and tech workers.

IT spending at large companies across North America next year will vary across various industries, with some edging up slightly and others showing no rebound or dropping year on year, according to preliminary data from Forrester Research.



Researcher Tom Pohlmann said Forrester forecasted 1% IT spending growth at large North American companies next year based on early data from surveys.

Pohlmann cautioned that the forecast right now should be "taken with a grain of salt" because of how preliminary it is. Forrester conducts two separate surveys: one of companies with more than $1bn revenue and another of companies with $500m to $1bn in revenue. Next year it will carry out its survey three times.

"I think a key point to understand is that there's a lot of churning going on under the surface," Pohlmann said. Thirty-five percent of those companies responding so far say spending would increase 12% on average, but 25% of respondents expected IT spending would falls by an average of 10%.

The manufacturing packaged goods segment would increase its spending, while insurance and financial services would fall spending slightly compared with last year. Pohlmann added that transportation was likely to show one of the largest spending downturns, and that does not just include the struggling airline industry, but also business-to-business delivery companies such as FedEx and UPS.

High-tech and telecommunications will be up, predicted Pohlmann, with the market spending 1% more on IT year on year.

Enterprise application software such as CRM (customer relationship management) and ERP (enterprise resource planning) would see "some renewed life" as companies move ahead with projects that were put off because of the stalled economy. Large companies will also spend a bit more on some specific services and consulting areas like IT strategy and integration, Pohlmann said.

Forrester analysts also outlined research in progress on what they expected to be hot areas in 2003. These included both retail and online sales and related technology, as well as healthcare and its technological issues.