Gartner: User complacency is central to successful cyberattacks
The vast majority of successful attacks on computer systems exploit security weaknesses that are well known and for which patches...

Download this free guide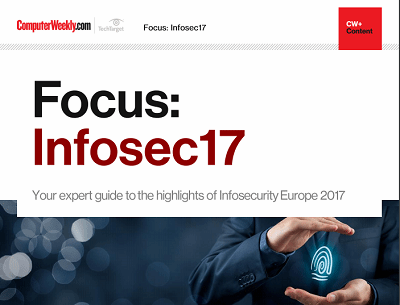 From forensic cyber to encryption: InfoSec17
Security technologist Bruce Schneier's insights and warnings around the regulation of IoT security and forensic cyber psychologist Mary Aiken's comments around the tensions between encryption and state security were the top highlights of the keynote presentations at Infosecurity Europe 2017 in London.

By submitting your personal information, you agree that TechTarget and its partners may contact you regarding relevant content, products and special offers.

You also agree that your personal information may be transferred and processed in the United States, and that you have read and agree to the Terms of Use and the Privacy Policy.

The vast majority of successful attacks on computer systems exploit security weaknesses that are well known and for which patches exist, according to research company Gartner.



Many recent cyberattacks could have been avoided if enterprises were more focused on their security efforts, but users seem not to learn from their mistakes, according to Richard Mogull, research director for Gartner.

Patches were available to protect systems against the Code Red virus, but had generally not been deployed, Mogull said. Worse, the Nimda virus exploited exactly the same weakness a few months later and was still able to cause havoc around the world. Combined losses from the two incidents are estimated at running into billions of pounds, largely because of user indifference, according to Mogull.

According to Gartner, the five top vulnerabilities to cyberattacks include:


Lack of risk management integration


Security not integrated into projects


Poor governance and culture


Weak security of suppliers and partners


No benchmarking on spending and value of security projects


To counter these vulnerabilities, users should take steps that include:

Increasing the enterprise's overall security posture.


Developing an internal response plan and aggressively monitor Internet activity on all systems, especially firewall and intrusion detection logs


Evaluating established security plans in light of recent events, and update as needed.


Forming a cyber-incident response team or contracting with an external provider to evaluate systems."


Gartner has predicted that until 2005 some 90% of cyberattacks will continue to exploit known security flaws for which a patch is available or a preventive measure known.

During that time, 20% of enterprises will experience a serious Internet security incident - defined as one that is more than a virus attack. Of companies suffering incidents, the clean-up costs of the incident will exceed the prevention costs by 50%, Gartner said.
Read more on IT risk management